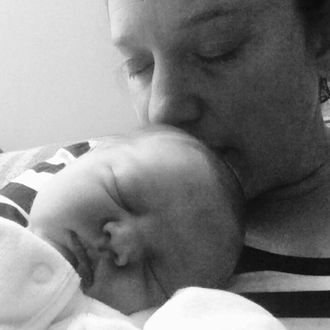 Photo: Valerie Theoret/Facebook
A Canadian woman and her 10-month-old daughter were killed by a grizzly bear while camping in the Yukon on Monday. Valérie Thé​orêt, who was an elementary school teacher, had been on her maternity leave.
According to a news release obtained by CBC News, Thé​orêt and her daughter, Adele Roesholt, were on a walk at the time of the incident. Thé​orêt and her partner, Gjermund Roesholt, had been trapping in the Yukon area for several months before the attack occurred.
A coroner said in the release that Roesholt had been away from the cabin on the family's trapline, and was charged by a grizzly bear about 100 meters from the cabin they were staying in. He managed to shoot and kill the bear, and found the bodies of his partner and daughter outside the cabin.
Rémy Beaupré, a family friend, told CBC that the couple bought the remote trapline about three years ago, and had been trying to spend as much time as possible in the outdoors together.
"It was the plan all along to go there and spend a lot of time there, but Valérie couldn't really take a lot of time off because she was a teacher," he said. "Being on her maternity leave, now was the opportunity for them to all go as a family."
As of Tuesday, the Yukon coroner is still investigating the incident.
Bruce Dent, vice-principal at the school where Thé​orêt taught, told Global News that she was well-loved by her students, and that the community is in shock over her death.
"The community is definitely in mourning," he said. "It's always difficult to lose anyone. It's particularly difficult when it's such a shocking, unforeseen instance. It's going to take a lot of time for people around her to get over it."