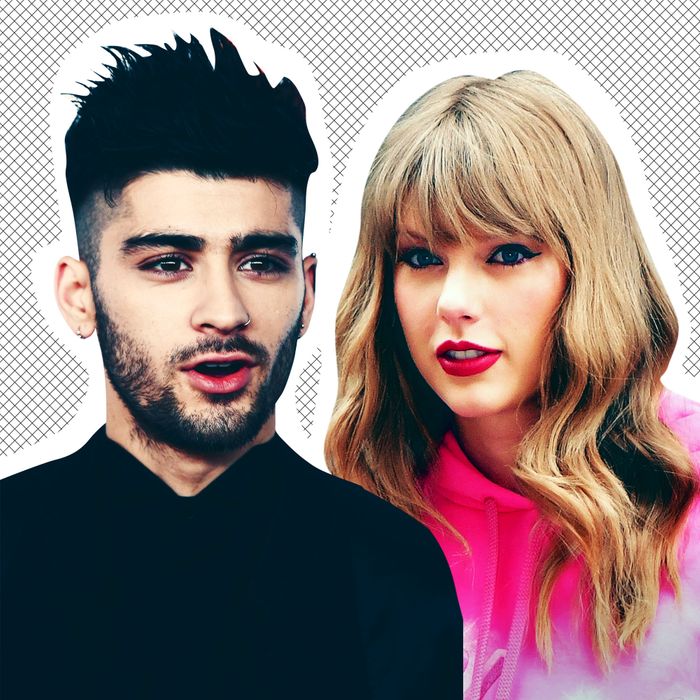 Zayn Malik and Taylor Swift.
Photo: Getty Images
This week, Vogue published a profile of former One Directioner and current Gigi Hadid boyfriend Zayn Malik, in which he talks about his upcoming album, his non-existent relationship with his former band mates, his religion, and most importantly, this:
"She was travelling around in a suitcase," he says, eyes agog, of his pal Taylor Swift's ability to avoid the paparazzi.
Agog indeed! As I'm sure you all remember with intense, jagged clarity, on July 17, 2017 (a Monday) the Earth was momentarily tipped off its axis when Splash News published a picture of two men carrying a giant black suitcase from Taylor Swift's Tribeca apartment into a waiting SUV, alleging that Swift was inside. What!
Splash then retracted its claim, telling SPIN that the photographer who wrote the caption was "not really a regular photographer that we use," and that "the report stated it as a fact, which we actually don't know. How could we?" (You couldn't know, because she'd be hidden. In the suitcase.)
Swift has never publicly commented on whether she does, in fact, hide in suitcases (though it wouldn't be that hard to believe given her other bizarre paparazzi avoidance methods) but Zayn clearly thinks she does, and they worked on that Fifty Shades of Grey song together, so he might know. Do you think she traveled in a suitcase to their video shoot?