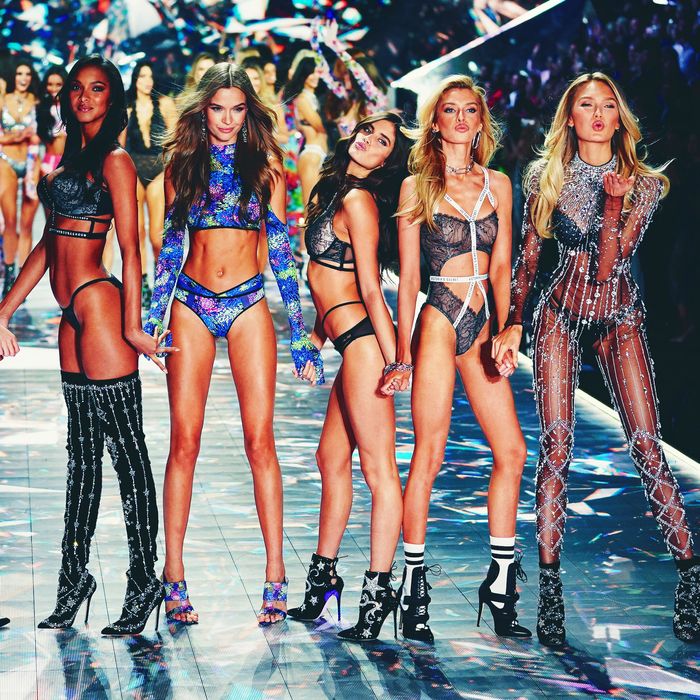 Victoria's Secret models.
Photo: JACKSON LEE/FilmMagic/Getty Images
After controversial comments and scheduling changes, the Victoria's Secret fashion show suffered its worst ratings in it's broadcasted history. USA Today reports that the show, which aired Sunday night on ABC, was only watched by 3.27 million people.
Over the course of two years, Victoria's Secret has lost half of its television audience. The drop in viewers continued this year, in spite of the brand putting on what Victoria's Secret executive producer Ed Razek called its "most ambitious" version of the show yet. "We have more musical guests, more fashion, and more stories than ever; and, of course, 60 of the world's top models."
The show did include many musical guests: Bebe Rexha, the Chainsmokers, Halsey, Kelsea Ballerini, Rita Ora, Shawn Mendes, and the Struts. But on Sunday, before the show aired, Halsey issued a statement about the show on her Instagram, distancing herself from the company.
"I have adored the Victoria's Secret Fashion Show since I was young," Halsey wrote. "However, after I filmed the performance, some comments were made regarding the show that I simply cannot ignore. As a member of the LGBTQ+ community, I have no tolerance for a lack of inclusivity."
Her statement likely references Razek's other comments about the show, which were not well-received. When asked about curating runways with more inclusive casting, Razek explained that attempts at diversifying the models would be seen as "pandering" and didn't fit the company's messaging.
"If you're asking if we've considered putting a transgender model in the show or looked at putting a plus-size model in the show, we have," Razek said. "We market to who we sell to, and we don't market to the whole world. We attempted to do a television special for plus-sizes [in 2000]. No one had any interest in it, still don't."
The show failed to live up to the ambitious goals that Razek touted. Robin Givhan reviewed the show for the Washington Post, calling it "too boring to even argue about." She wrote:
You'd think Victoria's Secret would have made sure this show was exciting and captivating — a sort of good-faith argument in favor of its stubborn commitment to marketing-as-usual. Instead, executives produced a show in which the models paraded down the runway like dusty showgirls blowing kisses and drawing hearts in the air, with one model practically indistinguishable from another… No matter how many pairs of wings, crescent moons and multicolored parachutes are on the runway, Victoria's Secret is still selling bras and panties. And they are a mess.
Victoria's Secret did end up apologizing for Razek's comments. But between responses to Razek, and the many logistical changes, the show had its lowest ratings since it was first broadcasted in 2001. Beyond Razek's comments, there were other factors that could have affected viewership. According to Harper's Bazaar, the show was moved from CBS to ABC this year, and was moved from its usual Tuesday broadcast time to Sunday. The poor performance of the show has been accompanied by sales that continue to drop.
"It takes an extraordinary amount of ineptitude, laziness, and sheer disregard to make a show as stultifying and lifeless as the Victoria's Secret one," Givhan wrote. "Greater diversity would be welcome, but it can't save Victoria's Secret from its own self-destruction."