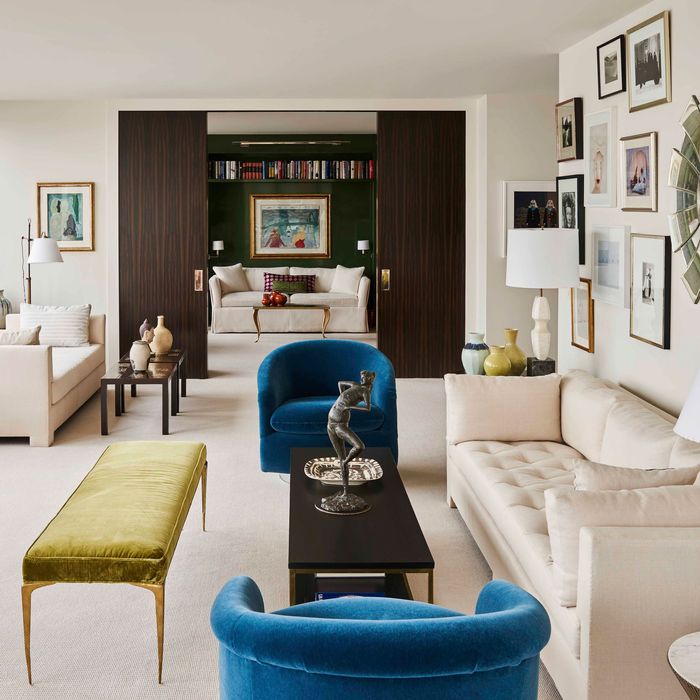 The living room.
Photo: Michael Mundy
"We loved the apartment we had on Park Avenue," Nancy Novogrod recalls, explaining why she and her husband, John, made a radical move to another part of town and a very different type of building. "The last apartment had three fireplaces, beamed ceilings, and that huge living room!" In other words, it was perfect for major entertaining and dinner parties during the 21 years that Nancy was editor-in-chief of Travel + Leisure magazine and before that editor-in-chief of House & Garden, then known as HG. But, Nancy adds, "I am a big believer in change." That goes for all aspects of her life, so on a lark, she ventured out with a real-estate agent who showed her this apartment at the United Nations Plaza. "I was so stunned by the light and the view and the openness that I decided that I really wanted to live here," Nancy says. "John came and felt the same. It's like a new beginning for us." Also new is the Culturati Travel Design company that Nancy founded working with Valerie Wilson Travel, drawing on her contacts and insider access to the worlds of art, architecture, design, and culinary discoveries.
John's study, seen above from the living room, is accessed through a new pocket door in the wall added by Alexandra Champalimaud, who not only helped with the décor of the apartment but also reimagined the layout with a new kitchen, two master baths, lots of storage, plus walk-in closets for him and her. The vintage Milo Baughman swivel chairs are covered in Mark Alexander Plush Ottanio fabric and reupholstered by Brad Jobe Bespoke Furniture. The classic Billy Baldwin sofa belonged to Nancy's parents and has traveled with her to her various abodes.