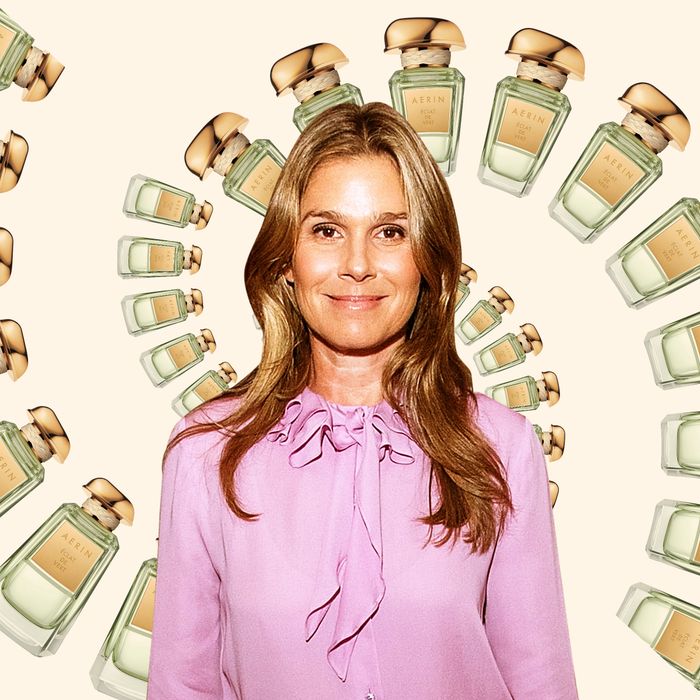 Photo: Jeff Schear/Getty Images
Call it the Proust effect: Memories are often triggered by smells. Scientific studies confirm that out of all the senses, smell offers the best recall. In Scent Memories, the Cut asks people about the scents they associate with different times in their lives. Next up is Aerin Lauder, granddaughter of Estée Lauder and founder of her own lifestyle line, AERIN. The brand recently launched Éclat de Vert, a new fragrance with notes of citrus, lush greens, and magnolia inspired by the South of France and Lauder's memories of visits to her grandmother's home. The Cut talked to Lauder about roses, popcorn, and musk.
My first scent memory is: My grandmother. When people always ask, what's the first thing you remember about Estée, it was her scent. I remember her always smelling incredible, really beautiful, like roses. In reality I think she was working on the Beautiful fragrance for Estée Lauder, so modifications of Beautiful are probably my first scent memory.
Happiness smells like: Summer. Like the mediterranean or Long Island — it smells like being at the sea and the beach.
Love smells like: Family. Anything from newborn baby smell to my teenage boys to my parents.
Friendship smells like: Loyalty. And the signature scents that my best friends wear. My friend Lauren duPont wears Frédéric Malle's Une Rose and another one of my really good friends wears Rose de Grasse, so there's definitely a rose trend going on there.
Heartbreak smells like: Something dark, woody, and mossy.
Regret smells like: Chocolate or gourmand. For me, it'd be something edible that reminds me of that feeling when you regret having too many sweets.
The worst smell is: Cigarettes. Especially when you're walking on the street, but I think it's even worse when you're talking to someone that has just smoked a cigarette.
Success smells like: Amber Musk, which is one of our most successful fragrances. It's a combination of amber and coconut, and we launched it about five years ago and it's continued to be a success. It's funny, I just got back from China and Amber Musk is their most successful fragrance, so it truly is our global scent of success.
Sunday morning smells like: Coffee, family time, and a walk in the park.
Monday morning smells like: Routine. [laughs] I'm very much a routine person.
My home smells like: Fresh flowers and it varies depending on the season. I love having fresh flowers at home whether it's beautiful orchids, or hydrangeas, or roses, or tuberose.
A pleasant surprise smells like: Popcorn! There are certain things that are always a great surprise, and I think that's a big, fresh bowl of popped popcorn.
If I could have one smell on my hands forever, it would it be: Roses. That was actually the inspiration behind our Rose Hand & Body Cream because I absolutely love the scent of roses. It could be because I was always surrounded by them; my grandmother loved Bulgarian rose, every fragrance she worked on had element of Bulgarian rose in it, which is apart of my earliest scent memory, so it's very close to me.
I smell like: Rose de Grasse, which is my most favorite of all of our fragrances. It's this beautiful white rose scent.
If you buy something through our links, New York may earn an affiliate commission.