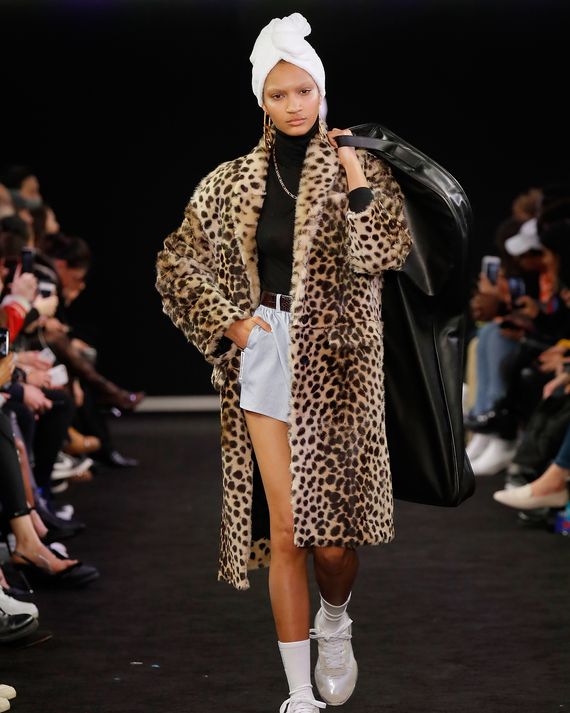 Photo: JP Yim/Getty Images
It was a cold and rainy Saturday night in Brooklyn — the kind that most would relish as an excuse to cancel their plans. But not Alexander Wang. The designer showed his fall 2019 at an enormous old bank across the street from the Barclays Center, with a champagne-and-caviar cocktail hour to lure guests out of their homes.
Wang has never been one to say no to a party, but he seems to have (mostly) put his days of raves, Red Bull, and high-calorie midnight snacks behind him. Now, the 34-year-old designer is focusing on what's best for him, hence his decision to deviate from the traditional New York Fashion Week calendar, and eat caviar.
With age comes self-examination, and for the past two seasons, Wang has made an effort to return to his roots and figure out who he is beyond just a good host. Last season's show was an ode to his immigrant past in the form of what he called "Immigrant Americana." (Wang was the first United States citizen in his family). For next fall, he chose to bring to life what he calls the "American Hustle."
The collection was inspired by two go-getters: Carolyn Bessette-Kennedy and Foxy Brown. "They wouldn't normally be put side by side, but I saw this incredible parallel between these two women who were both born in New York to middle-class families, and both had this hustle to achieve what they wanted in life," said Wang backstage after the show. "They represented this very stereotypical uptown/downtown woman. And we're taking all these codes of privilege, wealth, and status, and remixing them."
Wang's own parents worked hard to give him a life unlike their own, and he spent his formative years in private schools. His fall 2019 collection combines the preppy status symbols of his childhood and reclaims them for a more inclusive audience. "We're trying to give them a new sensibility," Wang added — something a handful of American designers are attempting right now as well.
The show opened with a blonde model who, from the waist-up looked like [extreme Gossip Girl voice] "Manhattan's elite," with a white tweed coat, turtleneck, and headband. By comparison, her bottom half was clad in black leather.
From there, the collection became increasingly disparate, expressing the way Wang felt as a Taiwanese-American kid trying to fit in. Rugby polos were worn with snakeskin boots; houndstooth coats were splattered with the work of New York-based graffiti artist, KATSU; and suits were cut with saggy shoulders to hang like hoodies. Wang also wanted to make the point that his customers not only defy convention, but also time zones. They can go from the golf course, to the shower, to the dry cleaner, to the airport, and then to a gala all in the same look — presuming they actually run all their own errands.
There were a handful of standout details amongst all these layers. I enjoyed the idea of wearing a bunch of different black cashmere sweaters essentially as loincloths. (Although I can't see anyone besides Kendall Jenner or Bella Hadid actually pulling this off.) A reworked Nike "Jumpman" logo of a woman with her legs spread, upside-down on a stripper pole, was particularly cheeky, especially given Wang's long-standing collaboration with Adidas. And personally, I'd like to wear bedazzled booty shorts underneath a men's dress shirt to my next black tie function, though I wish Wang would articulate his tailoring more precisely.
Still, I left wanting to know more about Mr. Alexander Wang. After over a decade of hustling in the fashion business, we know he's a talented designer who can make money. (He claims his last collection exceed the company's market projections.) We also know his signatures, his sense of humor, and where all that comes from. But I'm curious to see if Wang is capable of giving me a day-to-night look that doesn't spell it out in bedazzled letters. Or go beyond remixing other brands with his dark touch. I want him to hone in, as opposed to doing everything at once.
As any New York hustler would tell you, you have to have an endgame. Wang may be ambitious, but I'm just not sure where he's going.