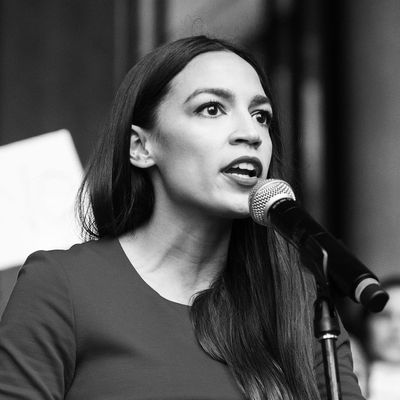 Photo: Alena Kuzub/Getty Images
After criticizing Congress for "relying on unpaid interns and underpaid overworked staff," Alexandria Ocasio-Cortez has vowed to actually pay her interns at least $15 an hour.
On Tuesday, Ocasio-Cortez tweeted that it was time to "walk the walk," adding, "Very few members of Congress actually pay their interns. We will be one of them." She's right: According to a 2017 report from nonprofit group Pay Our Interns, just 51 percent of Republicans and 31 percent of Democrats in the Senate pay their interns. And in the House, only 8 percent of Republicans and 3.6 percent of Democrats do.
Her announcement comes after a reporter with the Washington Post confirmed with Ocasio-Cortez's chief-of-staff that she would be paying the interns at least $15 an hour, the approved minimum wage in Washington, D.C.
Ocasio-Cortez explained in a tweet that each member of Congress gets a certain budget that's meant to cover all salaries (D.C. and district), and things like rents for district offices, travel home, tech devices, services, contracts. Members can then decide how it's all spent, she said — and it just so happens that most decide not to pay their interns a somewhat livable wage.
Meanwhile, earlier this week, Pay Your Interns tweeted a screenshot of an ad from Senate Minority Leader Chuck Schumer's office seeking an "unpaid press intern." Schumer's spokesperson later told Rolling Stone that the ad was "made in error," and that starting in January, the office will "offer a stipend to eligible interns."