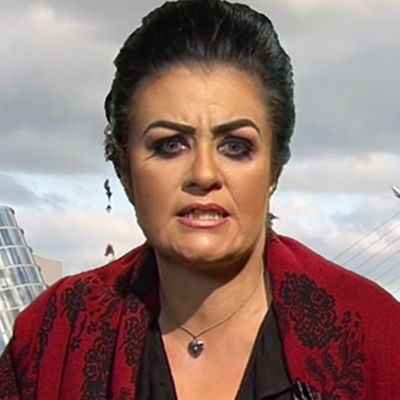 Amanda Teague.
Photo: Loose Women/Youtube
"True love stories never have endings," said writer Richard Bach, according to a quote card on BrainyQuotes.com. As nice and brainy as that quote may be, it is also wrong as hell, because one beautiful love story has come to a painful, resounding end: This week, Jack Sparrow impersonator Amanda Teague, 46, announced that she and her husband, the 300-year-old ghost of a Haitian pirate named Jack, have separated.
"So I feel it's time to let everyone know that my marriage is over," Teague wrote, per the Irish Mirror. "I will explain all in due course but for now all I want to say is be VERY careful when dabbling in spirituality, it's not something to mess with."
Teague married Jack in January of this year, in a private ceremony in international waters off the coast of Ireland. Jack, who was executed for thieving on the high seas in the 1700s, said his vows through a medium. The pair met, Teague says, when she was lying in bed one night and felt the spirit of Jack next to her. "I told him I wasn't really cool with having casual sex with a spirit and I wanted us to make a proper commitment to each other," she told the Mirror. She also said that "He is dark-skinned and has jet-black hair, so he tells me."
Teague and Jack went on drives, argued, had sex, but in the end, their marriage lasted less than a year. Was it infidelity that tore them apart? The challenges of existing in separate dimensions? Or had things just grown stale, with each of them taking the other for granted, and not putting in the effort necessary to maintain a stable, committed relationship?
Regardless of the circumstances, we offer our condolences to Jack and Amanda, and wish them the best going forward. We will update this post when we learn more.