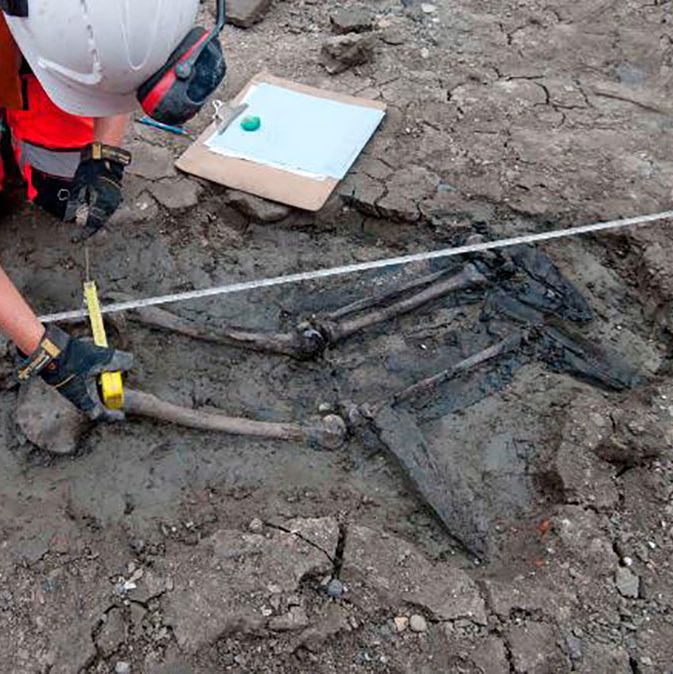 The ancient hypebeast's boots.
Photo: MOLA Headland
Centuries before there were sneakerheads, there was one particularly stylish London man whose skeleton was recently discovered with a formidably preserved pair of the hypebeast's most-beloved accessory: cool shoes.
Archaeologists recently discovered an approximately 500-year-old skeleton of the man in the mud under London's River Thames, where he had died in his fancy leather thigh-high boots, which remained impressively intact. Apparently, the archaeologists discovered the remains near Bermondsey in south London while they were working on a "super sewer" project. (Thank God this skeleton dodged a, uh, shitty situation.)
Today, these boots would perhaps be the equivalent of Rick Owens Geobaskets — that is to say, expensive and rare — which has left archaeologists perplexed about how how this man came to own the thigh-highs. Because the banks of the Thames were apparently pretty dangerous during Tudor times, archaeologists think that the man would've been "a fisherman, a mudlark or perhaps a sailor" who died prematurely — not someone who would today be hanging out at the intersection of Mercer and Howard Streets in Soho.
"It's extremely rare to find any boots from the late 15th century, let alone a skeleton still wearing them," Beth Richardson of the Museum of London Archaeology told National Geographic. "And these are very unusual boots for the period — thigh boots, with the tops turned down. They would have been expensive, and how this man came to own them is a mystery. Were they secondhand? Did he steal them? We don't know."