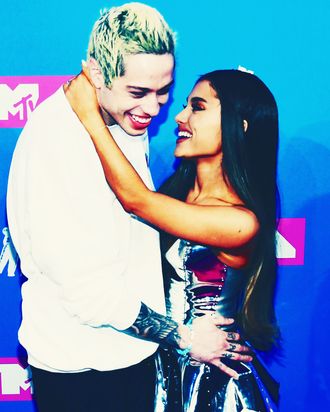 Photo: Nicholas Hunt/Getty Images
Ariana Grande may be sorry for dipping on Pete Davidson and his legendary BDE, but it is what it is, and a girl just has to move on.
In new behind-the-scenes footage for the "thank u, next" music video, she can be seen showing off a new tattoo on the top of her foot — one that seems to replace her "8418" tattoo, a reference to the firefighter badge number of Davidson's late father.
Instead, she now has a tattoo that reads "Myron," a tribute to late ex-boyfriend Mac Miller's dog.
"Look at my Myron," she can be heard saying at around the 2:40 mark in the video. "Guys, look. How cool, right?"
It wouldn't be the first time she's erased Davidson ink — since their tragic breakup, both Grande and Davidson have been steadily covering the multiple tattoos they'd gotten together.
A few days after their split, Grande performed at Wicked's 15th anniversary special, where she was seen literally covering the "Pete" tattoo on her finger with a bandage. A few weeks later, she covered the "Reborn" tattoo she got with Davidson with some kind of feather, and then inked over her "Pete" tattoo with a black heart. Davidson, for his part, covered his bunny ears tattoo with none other than a black heart, prompting people to believe the ex-couple had gotten matching post-breakup tats.
Does this mean that Davidson's Piggy Smalls tattoo isn't long for this world?