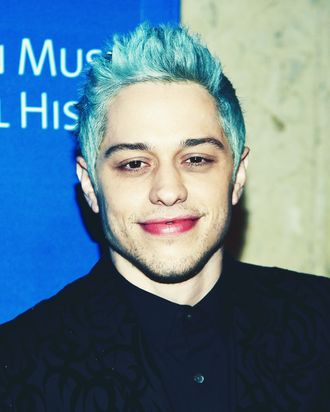 Pete Davidson.
Photo: Dimitrios Kambouris/Getty Images
While Pete Davidson is apparently "doing fine" following his major split from Ariana Grande, the 25-year-old comedian says he has been incessantly bullied over the past few months, and that he's struggled with his mental health.
In a Notes app screenshot posted to his Instagram on Monday, Davidson asserts that he has "kept [his] mouth shut" and "never mentioned any names" — which is partly true — but that he is still facing bullying in public and online, which isn't a lie. (Just last week, none other than Grande's manager responded to one of the malicious comments under Davidson's Instagram, writing, "Pete is a good dude.")
"I'm trying to understand how when something happens to a guy the whole entire world just trashes him without any facts or frame of reference," he writes. "Especially in today's climate where everyone loves to be offended and upset it is truly mind boggling. I've been getting online bullied and in public by people for 9 months."
Davidson also referenced his mental-health struggle with borderline personality disorder (BPD), about which he first opened up in October 2017, a year after getting the diagnosis. (Per the National Institute of Mental Health, BPD is marked by "an ongoing pattern of varying moods, self-image, and behavior," and sometimes inhibits a person's ability to form meaningful relationships, which Davidson addressed right around the time that rumors of his and Grande's relationship started to swirl.)
"I've spoken about BPD and being suicidal publicly only in the hopes that it will help bring awareness and help kids like myself who don't want to be on this earth," he wrote. "I just want you guys to know. No matter how hard the internet or anyone tries to make me kill myself. I won't. I'm upset I even have to say this."
He concluded the post with a message to "all those holding [him] down and seeing this for what it is": "I see you and I love you."
Early Tuesday morning, Grande responded to Davidson's post on her Instagram story with a heartfelt message to her fans to please stop bullying Davidson, as she still "[cares] deeply about Pete and his health."
"…You truly don't know what anybody is experiencing ever. Regardless of what they choose to display on social media or how they may appear in public," she wrote next to a screenshot of Davidson's original post. "So please let whatever point you're trying to make go. I will always have irrevocable love for him and if you've gotten any other impression from my recent work, you might have missed the point."
This post has been updated.