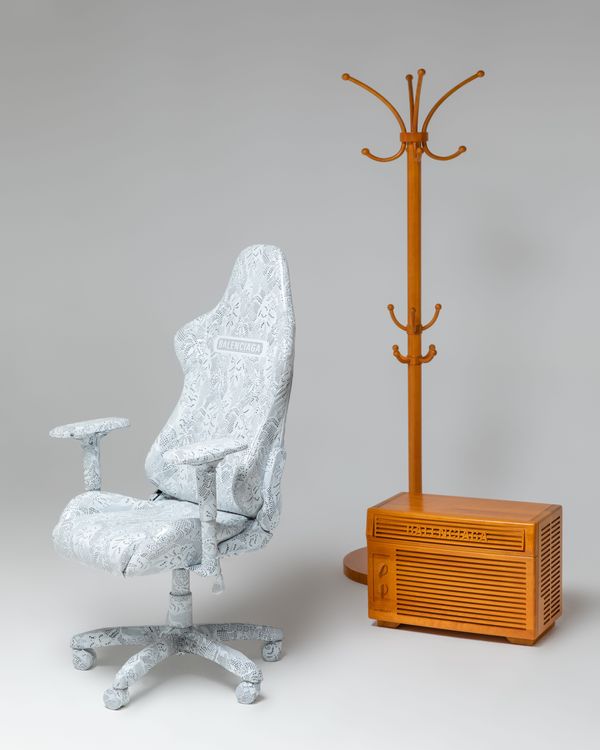 "The Office" by Harry Nuriev.
Photo: Inna Kablukova
For all the complaints that people may have about Art Basel Miami — it's too corporate; there are too many parties; actually, there aren't enough parties; where the hell is my Uber — one thing everyone can agree on is that it's a great excuse to get out of the office.
For artist Harry Nuriev, the office is where beauty, creativity, and humor go to die. Having spent his early professional life as a "lowly clerk" in a small, windowless Russian design bureau, he knows firsthand just how stifling workplace aesthetics can be. Since then, Nuriev has gone on to work for himself under the name Crosby Studios. He had a solo museum exhibition at Dallas Contemporary, collaborated with Rem Koolhaas's architecture firm OMA, and crafted a limited-edition home goods collection for Opening Ceremony this past spring. But his latest work, which gives office decor a much-needed makeover, was what caught my attention at at the Design Miami fair this week.
Ironically, the booths at art fairs like Design Miami are set up a bit like cubicles. At first glance, Nuriev's space looks like any other corporate prison, with a ticking clock, an office chair, coat rack, air conditioner, and giant copy machine — all on gray carpeting. But upon closer inspection, you'll see that each piece of furniture is made of smooth, hand-carved wood, with some covered in delicate, hand-embroidered lace, which makes them look trapped in time. (The lace is a reference to both his Russian roots and to his grandmother's home.) The "machines" also open to become useful storage drawers, perfect for stashing your secret office booze.
Nuriev also wanted to bring a bit of luxury and escapism to the office aesthetic, which is why, with Balenciaga's permission, he slapped the brand's logo on all the furniture. Although it's not an official collaboration, Balenciaga designer Demna Gvasalia would surely approve, as he, too, likes to remix corporate aesthetics — or, as the Crosby Studios notes, "appropriate populist imagery." It wouldn't be surprising to see a corporate ID card in his next collection. (Actually, Prada already did that.)
Whatever you think of Art Basel Miami, it's hard not to appreciate its general mission to just make life better-looking, whether that means with a painting on a wall or a nice piece of interior design. As I prepare to return to the office on Monday, I feel sad that I won't have a Balenciaga air conditioner to keep me cool. (Not that I could afford it, anyway.) Maybe, in the spirit of office art, I'll print out a picture of Nuriev's and hang it, instead.