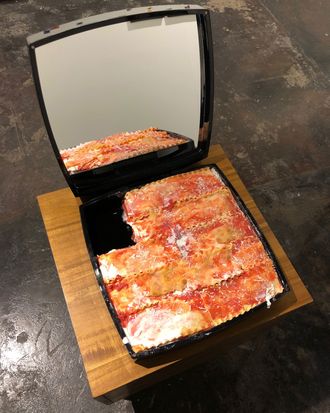 "Chanel Lasagna" by Chloe Wise.
Photo: Courtesy of Division Gallery
Italian actress Sophia Loren famously once said, "Everything you see I owe to spaghetti." She was living proof that sauce and carbs are the key to beauty inside and out, and her words have inspired supermodels everywhere to not only ingest pasta, but also slather it all over their nearly naked bodies.
Artist Chloe Wise also sees the beauty in pasta. Her new work, Chanel Lasagna, which was on view at the Division Gallery booth during the New Art Dealers Alliance (NADA) fair in Miami this week, is exactly what it sounds like: a giant Chanel makeup case filled with lasagna. Sadly, the food inside is fake, but its case was actually sent to editors, models, influencers, and artists like Wise by the brand some time ago. I remember seeing it all over Instagram and watching people unbox it with glee to find an array of beauty products (not lasagna) inside. Now, it's got a second life.
Wise has been cooking up Chanel-branded food art since the beginning of her career. Her early "Bread Bags" featured the double-C logo on bagels, pancakes, and Challah, all of which she crafted by hand. She's also done lifelike sculptures made to look like gooey, drippy, somehow-sexy spaghetti, and her paintings replace traditional still-life fruits and vegetables with things like almond milk and La Croix.
Wise, who was out and about at Basel Miami this week, knows that art fairs can be exhausting. So can the beauty-industrial complex. Finally, something that satiates the hunger produced by both.