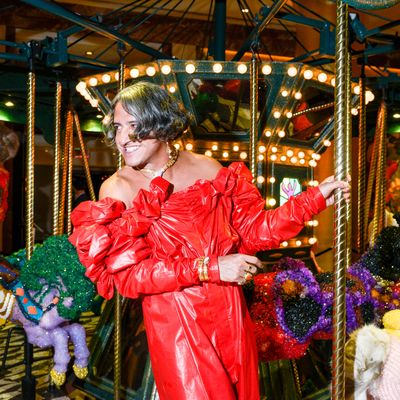 Raúl de Nieves.
Photo: Madison Voelkel/BFA.com.
The air was hot and sticky on Tuesday night in Miami. A man with horns and a devilish laugh played host at the Faena hotel on South Beach. Guests wore slithering serpenti around their wrists and necks, indulging themselves with food and wine while fire-dancers performed. Even the space, which glowed red, was located below ground.
The occasion was billed as a celebration of Bulgari's recent collaboration with the nonprofit Art Production Fund, but it would be easy to think you were somewhere else — somewhere only the sinful go, and where they play for all eternity…
The night's red-clad host was actually Mexican-American artist Raúl de Nieves, who wore a look from Vaquera's fall 2018 collection and a Bulgari Serpenti necklace around his neck. ("Don't get this on camera, but I'm about to run out this door," he joked, stroking the expensive jewels.)
De Nieves was there to unveil his new public sculpture, a life-size merry-go-round, in the Faena lobby. There to pop Champagne and take a spin were actresses Laura Harrier and Chloë Sevigny, musical artist Jess Glynne, and models Winnie Harlow, Candice Swanepoel, and Devon Windsor.
Titled "When I Look in to Your Eyes I See the Sun," the carousel represents what de Nieves, 35, describes as the "belief that at any age, you can still dream and have aspirations." Covered in hundreds of colorful, jewel-like beads — a common material in de Nieves's practice — it's both an art object and an emotional journey.
The figurines on the carousel were inspired by ancient mythology and the Roman origins of Bulgari. Each represents a different part of the life-cycle, from birth to temptation to joy and also fear. De Nieves says he himself felt all of these things throughout the process (after three months of work, each fragile piece was transported from Brooklyn to Miami). He hopes that a trip on the carousel not only makes you happy, but also allows you to "make friends" with the things that scare you most.
"At the end of the day, there are moments when you let go of yourself and become a part of the journey," said de Nieves before dinner. And with that, he raised his glass and let out a scream. Art Basel 2018 had officially begun.