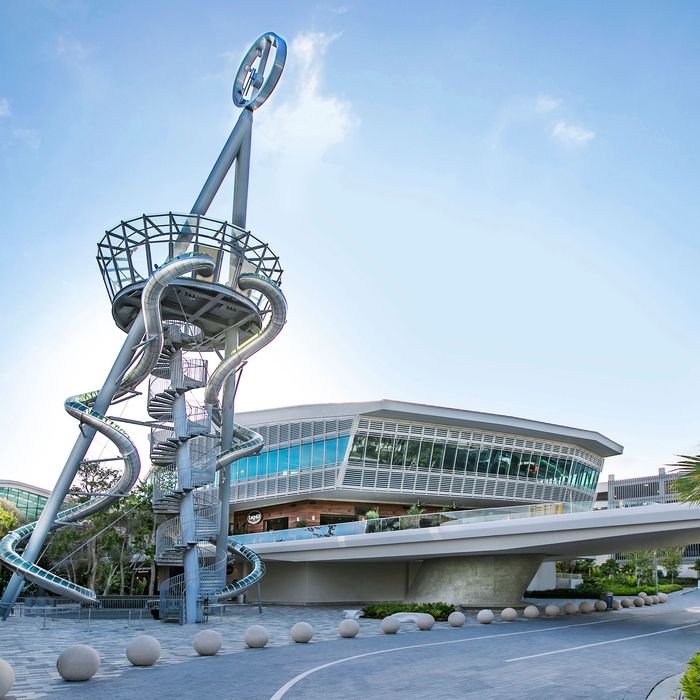 Aventura slide tower by Carsten Höller.
Photo: Courtesy Turnberry
There is a phrase for the kind of physical, mental, and spiritual exhaustion many people feel after spending a day shopping. It's called "mall fatigue," and a friend of mine who grew up around New Jersey malls swears that it's a real thing.
Malls are incredibly sensory places — you've got logos and brand advertisements flashing at you all day, not to mention the smell of Auntie Anne's following you wherever you go. They're crowded and enormous and oftentimes indoors. Wouldn't it be nice if you could give your legs and eyeballs a break? Maybe with some million-dollar, museum-level art?
Jackie Soffer, whose family owns and operates various properties around Miami including the Aventura Mall, has made it her job to bring visually pleasing, intellectually stimulating, museum-level art to public spaces.
"We have a civic duty to bring art to the people, because most people don't take the time to go to museums," Soffer said one afternoon at the mall this week. Soffer's husband Craig Robins, who owns Design Miami, also feels a similar responsibility to install public art in Miami's Design District.
While most people were out shopping for expensive sculptures at Miami's Art Basel this week, Soffer was proudly showing me the Louis Bourgeois benches she had installed by the Louis Vuitton store, and where she was going to place a recently acquired Virgil Abloh x Murakami work. Actually, it might need to go over there, she said, to make room for the eight-foot wide Robert Indiana "Love" sculpture she just bought at auction. "I'm trying to get it in for Valentine's Day," Soffer said, excitedly.
With all the recent headlines pronouncing the "death of the American mall," you wouldn't expect someone like Soffer to have millions of dollars in her company budget to spend on art. But as the third-largest mall in the country, with 2.8 million square feet of retail space, the Aventura mall is thriving. It receives 28 million visitors a year, according to Soffer. Compared to the traffic of most museums in the area, that's a lot of eyeballs.
"Retail is evolving," Soffer said with a shrug. "I wouldn't say that it's dead. Mediocre retail is dead."
You've got to give shoppers something more, and art is part of the experience at Aventura. Soffer started buying art for the mall long before Instagram and Snapchat took off, though, and many people walk right by the sculptures without a second glance. "I don't think a lot of people realize that it's artwork," she said. But that's fine, because at least some fraction of the 28 million do.
A nine-story slide by Carsten Höller on the outside of the mall, however, is both the epitome of a retail "experience," and a work of art that's impossible to miss.
"People know that's not just a slide," Soffer said with a laugh.