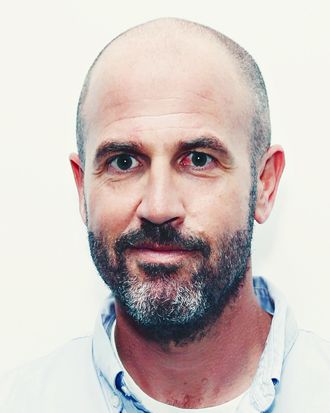 James Frey.
Photo: Cindy Ord/Getty Images
The votes have been tallied, the numbers have been crunched, the excessive horniness has been accounted for, and the winner of 2018's Bad Sex Awards in Fiction Award is here. Congratulations to writer and noted fabricator James Frey, who took home Literary Review's esteemed prize for his novel Katerina.
Although Literary Review found several excerpts of his book worthy of this honor, they were particularly moved by this passage, which includes the word "cum" no fewer than seven times:
I'm hard and deep inside her fucking her on the bathroom sink her tight little black dress still on her thong on the floor my pants at my knees our eyes locked, our hearts and souls and bodies locked.




Cum inside me.

Cum inside me.

Cum inside me.




Blinding breathless shaking overwhelming exploding white God I cum inside her my cock throbbing we're both moaning eyes hearts souls bodies one.




One.

White.

God.

Cum.

Cum.

Cum.

I close my eyes let out my breath.

Cum.




I lean against her both breathing hard I'm still inside her smiling. She takes my hands lifts them and places them around her body, she puts her arms around me, we stay still and breathe, hard inside her, tight and warm and wet around me, we breathe. She gently pushes me away, we look into each other's eyes, she smiles.
"James Frey prevailed against a strong all-male shortlist by virtue of the sheer number and length of dubious erotic passages in his book," the judges said in a statement. "The multiple scenes of sustained fantasy in Katerina could have won Frey the award many times over." Frey, meanwhile, said that he was "deeply honored and humbled" by the distinction.
The awards are meant to highlight the worst sex writing in modern fiction; Literotica short stories and the horny Beto tweet, for instance, sadly do not qualify. Regardless, Frey faced serious competition. And in my expert opinion, the entry that described a woman's vagina as both an "enameled pepper mill" and a "boa constrictor" swallowing its prey was robbed.