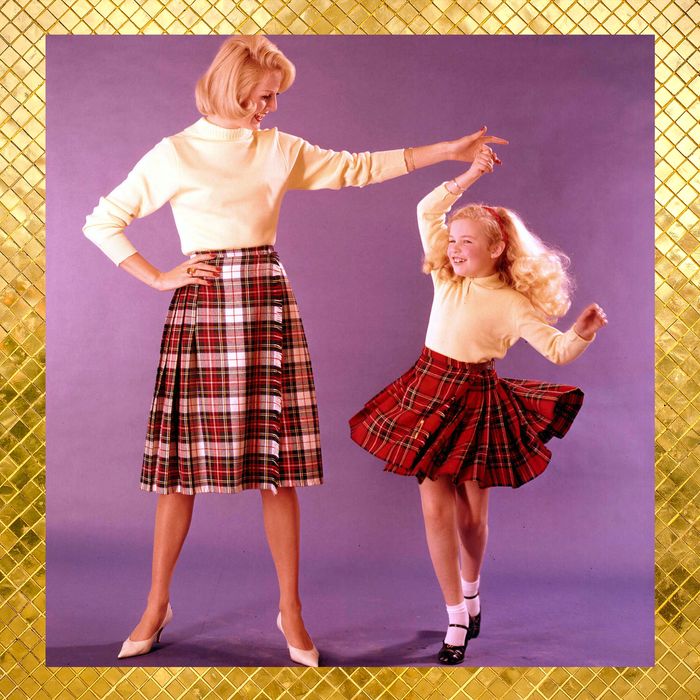 Plaid for everyone!
Photo: Photo Illustration by Stevie Remsberg/Photo Getty
Ugh, the holiday party circuit. It's so tiring, says everyone to me while I'm sitting at home with a baby.
There are so many canapes to eat without a napkin, so many silent auctions to silently attend, so many vodka tonics with a dash of cinnamon (for the holidays) to drink. No wonder Goop is selling vitamins to cure exhaustion!
Then there is the problem of what to wear. Too dressed up and you risk looking too excited for the holidays, like some sort of woman who lives in an attic. Too dressed down and you risk seeming depressed about the holidays, like some sort of woman who lives in an attic. What to do?
It is extremely difficult to dress in an appropriate manner. I know this intimately. Just in my normal life, I am often far too dressed up for the occasion at hand. I'll never forget wearing red pleather pants to school in 8th grade. So embarrassing. Eighth grade isn't the Oscars!
I have no office and few friends so I am only attending a smattering of holiday parties I was invited to out of pity, like some kind of woman who lives in an attic. Even then I was rather stressed about it. Plus, some of the invitations seem frustratingly vague. "Mistletoe Madness" in an apartment? Should I wear opera gloves to that or not?
And then I saw it shimmering on Shopbop — deeply discounted because no one else wanted it for some reason.  A full-length plaid skirt. Perfection! That's exactly what you should wear to a holiday party!
A plaid skirt that grazes one's middle shin has a lot to like about it. 1) Camilla Parker Bowles loves them! 2) You can spill anything on it and it just blends into the plaid. 3) It's extremely festive. 4) What even is it?
And this last sentiment is perhaps the most important of all. How actually dressy IS a full-length plaid skirt — no one even knows really. Is it something you could wear to a ball? Sure! In Scotland. But could you also wear it, paired with Doc Marten boots and a leather jacket, to an Emenim concert? If you want to go to that — well, I don't see why not! It is so singular, so not of an actual wardrobe that it transcends dress code. It just says "holiday."
I wore the skirt to my haircut the other day.  That's how versatile it is.
"That is a cool skirt," said someone in the elevator to me. They had been staring at my skirt with something like horror on their face for many minutes.
"Thank you," I said. I smiled at them. It was a nice gesture of civility in an uncivil world.
"It's perfect for the holidays," they said as they got off the elevator.
"My sentiments exactly!"  I called out after them.
6 Plaid Skirts to Wear to Holiday Parties
Available in sizes 10–30.
Available in sizes 00–16.
Available in sizes 2–22W.
If you buy something through our links, New York may earn an affiliate commission.