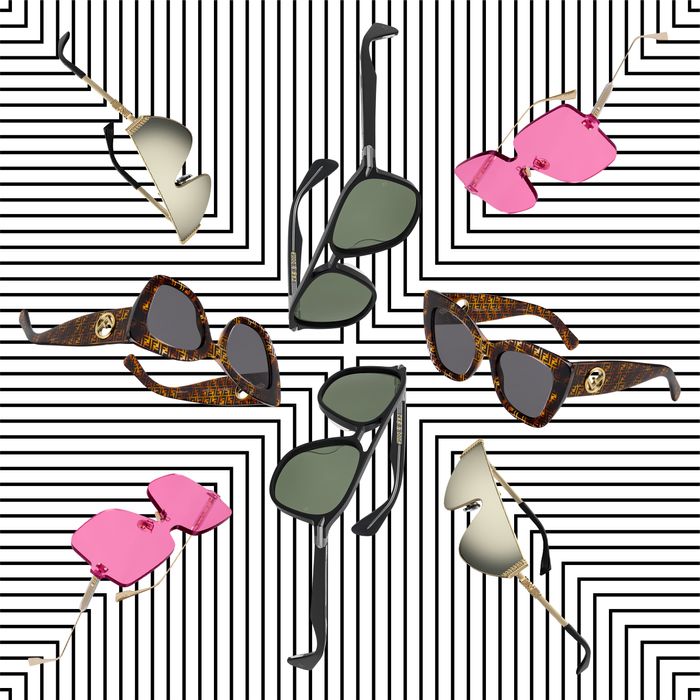 Photo: Courtesy of Solstice
Sunglasses tend to be stereotyped as a summer necessity. But if you've ever gone outside on a sunny day, right after a heavy snowfall, then you know how blinding winter can be. And just like wearing sunscreen all year round, you should be protecting your eyeballs regardless of the season. (You are wearing sunscreen everyday, right?) Not to mention, sunglasses are one of the few ways to broadcast your style when most of your outfit is buried somewhere under a parka and snow boots. Ahead, see a few picks from the luxury eyewear experts at Solstice Sunglasses that'll add an essential dash of fashion to your look — and would all be well-received holiday gifts.
The Diva Pair
An oversized logo style is fit for someone who's happiest flaunting her greatness. Tortoiseshell is a nice alternative to black, but will still go with all her different-colored faux furs.
The Mixed Media Style
With their layered crystals, silvery metal, and ivory-marbled arms, these feminine frames would suit a quirky fashion-lover well. Wear them to break up an all-neutral look, or to complement an eclectic ensemble.
The Futuristic Ones
High-fashion types will appreciate the strong styling of these ultra-modern shades, which are begging to be paired with luxe, off-kilter suiting. Leather? Velvet? Yes, please.
The Power Pink Pair
Whether or not you buy into the whole rosy outlook thing or not, bright pink is a color du jour. Plus, transparent lenses are a good middle ground when darker shades are too dramatic.
The Contemporary Classics
What makes this navigator style so good is the precise attention to detail. The seamless lines and sharp angles will upgrade a budding fashion guy, or please an established one.
The Over-the-Top Ones
Give the person who's obsessed with designer trends and "crazy rich" culture this piece of gilded wardrobe candy. Bonus: They'll shine gloriously against all of their sweet browns.
The Bad-Vibe Blockers
Whether she's an aspiring tight-lipped editor-in-chief, or just enjoys a good vacation, these will block out everything she doesn't care for (like sun damage), and conceal her shadiest eyerolls.
The Sleek Staple Shape
With rich leather trim and delicate rose gold, this pair screams "on ski holiday in Europe." Even if he only makes it to Vermont, they'll make him feel like he's in Verbier.
All images courtesy of Solstice.
This is paid content produced for an advertiser by New York Stories. The editorial staff of The Cut did not play a role in its creation.