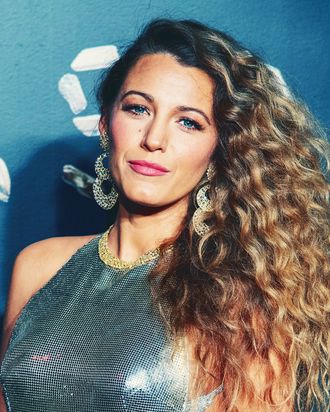 Photo: www.RoyRochlin.com/Getty Images
Blake Lively has great hair. This is partly because of genetics and partly because of Rod Ortega, a waves whisperer who has been Lively's hairstylist since her Serena van der Woodsen days. He's also been busy; he created the curly, crowd-pleasing look Lively wore to Versace's pre-fall 2019 presentation on Sunday (left), and the simultaneously sleek yet beachy look she wore to the Chanel Metiers d'Art show at the Metropolitan Museum of Art last night (below).
Both of Lively's outfits were shiny, silvery not-suits, but surprisingly, her accompanying hairstyles were complete opposites. To hear more about what kind of thought goes into such famous hair, especially during the December fashion-show circuit, (the celebrity version of the holiday party circuit it seems), the Cut caught up with Ortega right after Lively left for the Met steps to talk headbands, retro commercial hair, and the eight products he puts in her hair.
What was on the mood board for the Versace look?
Blake was wearing an archival 1999 dress, so that look had more of a '90s influence, when corkscrew perms were really popular. I looked back at the '96, '97, '98, and '99 collections, and pulled all the old ads and editorials from those four years. You know: chain mail, Kristen McMenamy, Kate Moss, and Stephanie Seymour with that carefree kind of hair. I love hair with lots of texture and that's what I gravitated toward for Blake.
What about for the Chanel show?
That process was a little bit different. It was way less prepared and more improvised the night of. The Chanel dress is more dazzling in a way, with all that sequins, so once she had it on again, we changed it from a fuller look to something smoother with just a pop of wave. I sectioned Blake's hair into three sections and just used a T3 one-inch clip to go back and forth down her hair. I love doing a sleeker wave because the reflection of the light is beautiful. It's a very current look compared to Sunday's.
Speaking of comparisons, what is the difference between Serena van der Woodsen hair and Blake Lively hair?
Serena's hair is styled, but in a more carefree way. Blake's hair is styled, but in a way that compliments fashion, or pays an homage to a designer; it's a little more thought-out. Serena lived in New York City, was on the Upper East Side every day — it was normal for her to just, you know, throw on a Valentino gown and walk down the street with her hair worn how it would be any other day, with any other designer outfit. Blake also loves fashion, but really appreciates the art and craftsmanship of design, so we put a little more thought into what her hair is going to convey.
After you style Blake's hair, what does it usually smell like?
Elnett or Kérastase VIP Texturing Hair Spray. One of those mixed with little bit of Christophe Robin Prickly Pear Regenerating Balm, which just cleans everything up — a little hair here, a little flyaway there. That's it.
What are your initial reactions to the following throwback hair accessories?:
Headbands.
LOVE. Love, love, love. Definite thumbs up. I'm actually working on a headband line and just got a few samples back!
Claw clips.
Oh, no. No. So distracting. There's no shape to it — it's just flat. It's a quick, quick fix to nothing. Put it in a cute pony, at least! Think about it: putting a CLAW? In your hair? No. Scrunchies? Yes.
That was next!
[Laughs.] Yes. I love the scrunchie. I want someone to revamp it and make it really, really cool. Like a fishnet one, one covered in diamonds … Let's do it.
Snap clips.
I use those under wigs to get the the hair really tight — especially under lace fronts for movies. I love them, but I think they'd be even better if they were square, or triangle. You know what I mean? It's kind of a weird shape right now, but imagine them as squares or triangles — wouldn't you wear those?
I can see it.
You know what … I think I like them.
What hair trend do you hope quietly dies with 2018, and what hair trend do you hope dominates 2019?
That half-bun, half-hair down? No. No more. Nope. It's like two different hairstyles: Oh, I forgot to put the back up in a bun. Or, Oh, I forgot to take all of my hair out. I just couldn't buy into that one. For 2019, I hope texture and big, carefree hair takes over. Do you remember that Shasta commercial in the '80s? They all had really big, beautiful hair, and they're just singing about cola all stylized — I love stuff like that! A little more body, a little messier, a little fuller, a little flirtier. I want more Saved by the Bell hair in 2019.
What's the most surprising thing about Blake's hair that those of us who haven't met it would never know just by looking at it?
That's all her hair. Other stylists ask me that all the time, especially on junkets: Is that all her hair? It is. At the Versace show too — no extensions. It's actually not thick, thick, thick hair either — we pump it up. She really takes care of it which is an important factor, but a lot of the plump and volume actually comes from the Christophe Robin Rosewater Spray. And lastly, I don't put that much stuff on her hair. It's the mist, some oils on the ends, and the sprays I mentioned earlier.
For oils, I rotate between Kiehl's Silk Groom, Sisley-Paris's new one, and the Kérastase serum in the really tiny blue bottle, so her hair doesn't get used to one. I won't lie, they're definitely on the pricier side, but think about it like skin care: It's like spending money on pricey eye cream, or La Prairie for your face. It's good to invest in the maintenance of your hair and I think a good serum or oil is a must.