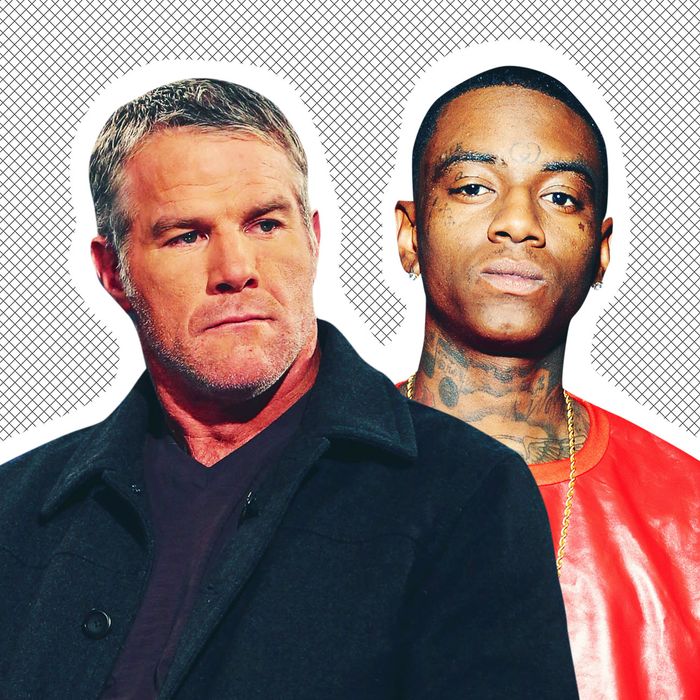 The year 2018 has repeatedly proven that we can't have nice things. Our latest example arrives courtesy of Cameo, an app in which you can pay celebrities (mainly of the C- through E-list variety) to create a personalized video message. Now, much like every other place on the internet, the lovely app you once used to have Bethenny Frankel wish your cousin happy birthday has been … drumroll please … co-opted by white nationalists.
According to a piece in BuzzFeed news, an anti-Semitic group called the GDL or "Goyim Defense League" has been using the app to pay celebrities to deliver messages that employ coded anti-Semitic language, in hopes that the videos will go viral. Targeted personalities include ex–Green Bay Packers quarterback Brett Favre, comedian Andy Dick, and rapper Soulja Boy.
"Brett Favre here with a shoutout to the Handsome Truth and the GDL boys," Favre says in his Cameo video, according to BuzzFeed. "You guys are patriots in my eyes. So keep waking them up and don't let the small get you down. Keep fighting, too, and don't ever forget the USS Liberty and the men and women who died on that day. God bless and take care."
BuzzFeed has a good breakdown of the many anti-Semitic dog-whistles that are baked into the passage; for example, "small" is a code word for small hats, meaning yarmulkes, and USS Liberty is a dog-whistle for a popular anti-Semitic conspiracy theory.
Celebrities can choose to decline Cameo offers, so GDL YouTuber Handsome Truth said in a livestream that the goal was to make the messages cryptic enough that they would be accepted. Patrick Little, an outspoken anti-Semite and failed California senate candidate associated with the GDL, also touted the Cameo scam as a way "a very intelligent way to get celebrities to name them and shame [Jews].
Favre has since apologized, saying that he thought he was making a video "to support the brave men and women of our military forces." He says that he now plans to donate his $500 Cameo fee to organizations that fight hatred. "Like most Americans, I am sickened by what these groups stand for and concerned about their role in fueling today's negative political climate … Had I understood the source of the request, I never would have fulfilled it." Soulja Boy and Andy Dick — who himself has a history of anti-Semitic remarks — have also issued apologies.
Cameo CEO Steven Galanis says the group has since been banned from the app, and that Cameo has asked YouTube to remove the video and is putting new filters in place to prevent this from happening again. "It's a shame that this group is taking away from a platform that is bringing so many people joy," Galanis said.
In a year that has seen an uptick in anti-Semitic and white-supremacist violence nationwide, the Cameo incident is yet another unfortunate example of how far-right extremists are attempting to co-opt tech and social media in order to mainstream their abhorrent beliefs.