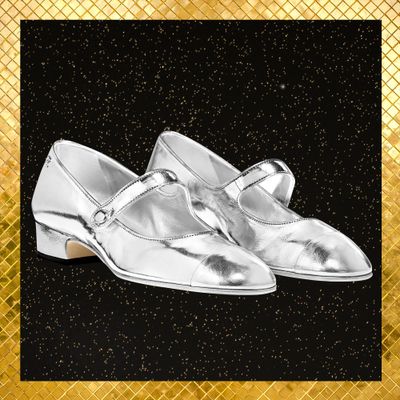 Please buy me these.
Photo: Photo Illustration by Stevie Remsberg/Photo Courtesy of the Retailer
The Mary Jane may be a classic shoe shape and a firm favorite for many shoe lovers, but personally, I'd never found a pair that spoke to my heart until I beheld these silver Mary Janes from Chanel.
Most MJs are too fussy: they come with too much embellishment, or with heels that are too high, and if the heel is low, then the standard black can feel too childlike. But what a difference a color change can make! The laminated silver goatskin makes these look like they belong on a mantelpiece, as an objet d'art.
Of course, if you do wear them out on the street, the 1.5mm heel is made for walking, especially as Chanel shoes are ultracomfortable. (I have parted with many hard-earned pennies for Chanel footwear, and I've never regretted a purchase.) Wear them with a white T-shirt and vintage jeans — they'll provide all the interest your outfit needs.
If you buy something through our links, New York may earn an affiliate commission.