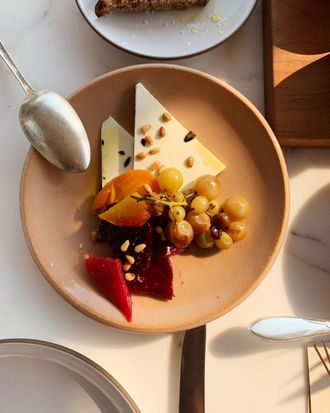 A salad by Melissa Reitz of Locanda Osteria, at Scribe Winery.
Photo: Camille Becerra
Weekend With is an ongoing Instagram series that features people we like photographing places we'd like to be. Follow @thecut on Instagram to join in, and tag your photos with #weekendwith when you travel somewhere new.
Camille Becerra (@camillebecerra) is a New York City chef and an avid traveler. She recently booked a trip to California to tour the groves at the California Olive Ranch. "I took the opportunity of being in one of my favorite places — aside from NYC — to tack on some days to hang and wander," she explains. Scribe Winery in Sonoma was a highlight: It's "so transportive, primarily because of its classic Mission-style architecture." Scroll down for her photos from the trip.
"First stop of my Northern California five-day trip: A tour of the modern olive orchard at California Olive Ranch. They are one of the pioneers in the California olive oil movement started in the late '90s, pushing for quality American olive oil."
"This Arbequina olive harvest at the olive orchards. Olives are considered fruits and must be pressed within 1–2 hours from picking."
"California wine country looking like a star. En route from the orchards to San Francisco, we stopped for a delicious dinner at Matchbook Wine Company, and, seriously, this was the scene."
"Room with a view! I stayed at Roam San Francisco, a restored mansion built in 1904. It's now a shared workspace and hotel for the modern nomadic worker. The location is supreme — it's across the street from Alamo Square Park and close to Bi-Rite, a well-curated food market (especially love their fruits and fancy yogurt) and The Mill, a local coffee house serving a breakfast close to my heart: thick-cut, salty-buttered sourdough toast."
"Swan Oyster Depot, a San Francisco institution, can be intimidating at first; I went alone, as many do. The menu on the wall boasts too many intriguing options to have to commit to a couple. I started with two oysters, then got the sashimi plate followed by the mixed seafood cocktail (insane)."
"San Franciso is one of my favorite food cities … and Tartine Manufactory is one of the reasons why. My lunch there ended with a Elisabeth Prueitt quince-and-cardamom pie topped with torched meringue."
"For the last leg of the trip, I headed to visit the naturally focused Scribe Winery in Sonoma, and my chef friends there. This beautiful Mission Revival hacienda hosts tastings, and on occasion travelers, in the upstairs living quarters."
"Chefs Emma Lipp and Kelly Mariani run a residency program at the winery. This myrtle-marinated ricotta salata with garden beets, pine nuts, and grapes roasted with verjus is from Melissa Reitz of Locanda Osteria, during her time in the kitchen there. Myrtle is now my new food obsession."
"Epic room with a view at the Hacienda. I was one of the lucky to be treated to a beautiful respite during my visit there."