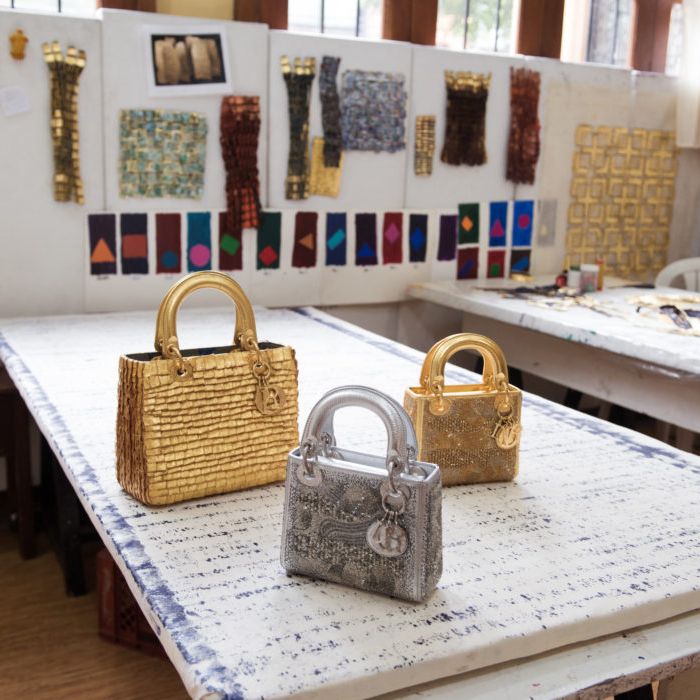 In daily life, rarely does ones handbag feel like a work of art. It's more like a tool that helps you get all your stuff from A to B. You toss it around, rest it on places you probably wouldn't touch with your own two hands. Oftentimes, the invisibility of a handbag is the result of good design, or just the reality of life in general. But for some collectors, handbags are about more than just function — they're objects as precious and valuable as an expensive sculpture.
Christian Dior subscribes to this philosophy, and for the past three years, the brand has invited artists to redesign its classic "Lady Dior" bag at Art Basel. This year, Dior's artistic director, Maria Grazia Chiuri, insisted that all the artists selected be women. The resulting group includes eleven female-identifying artists from around the world: Polly Apfelbaum, Burçak Bingöl, Lee Bul, Isabelle Cornaro, Olga De Amaral, Haruka Kojin, Li Shurui, Janaina Tschäpe, Morgane Tschiember, Mickalene Thomas, and Pae White.
"For this project, I imagined what it might look like to take a fragment of the bottom of an ocean, or a piece of a forest, and turned that vision into a sculpture," said one of the artists, Janaina Tschape, of her process. "From there, we collaborated to turn that sculpture into a utilitarian object that could be worn."
Beginning today, the limited-edition collaboration will be exclusively available at Dior's Miami Design District boutique. Even if you're not in the market for a piece of art, the store has become a gallery of sorts for the eleven radically different perspectives on display. And if you're not in Miami, then you can see them all below.
Pae White
Mickalene Thomas
Morgane Tschiember
Isabelle Cornaro
Polly Apfelbaum
Olga De Amaral
Haruka Kojin
Lee Bul
Janaina Tschape
Burçak Bingol
Li Shurui