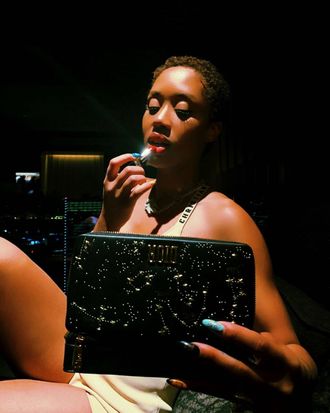 Kitty Cash.
Photo: Courtesy of Kitty Cash
In between DJing a Valentino after-party, hosting her own party, Voila, at Club Tokyo, and spinning two more parties for A$AP Rocky, DJ Kitty Cash also found the time to attend Dior's pre-fall 2019 men's show during her five-day stint in Tokyo that came to an end last week.
"It was literally breathtaking," said Cash who prepped for the Dior show with Diorshow Iconic Overcurl Mascara and Dior's Backstage Contour Palette. The experience included a 39-and-a-half-foot sexy robot statue, an accompanying light show, and excellent accessories. "I was dying when I saw the metallic handbags. I wanted to grab those right there and go home with them."
Following a post-Tokyo trip to Jakarta, Cash did go home to Los Angeles, but only for a hot second. The Cut caught up with the DJ while she was waiting for another international flight back out of LAX to talk jet lag, low-maintenance hair, and having zero semblance of a bedtime.
What's your nighttime beauty routine?
I start with makeup-remover wipes — I like the witch hazel ones — then I'll just use Cetaphil as a first pass. Next, I'll use Sunday Riley Ceramic Slip … I'm talking through this and I'm like damn, I kind of do do a lot of shit …[laughs]. So, then I'll apply Kiehl's under-eye cream. I don't rub it in, I just let it sit underneath my eyes and let it absorb slowly. It makes me feel like it's doing the magic that I need it to do. Then, I use the Mario Badescu Viatmin C Serum, followed by this Barbara Sturm custom plasma. They draw your blood and mix it in with the cream so you have your own personal one. And that's the nighttime routine — gotta keep it hydrated.
How long does that take you?
In between me playing songs and dancing, maybe 30 minutes or so. It's my decompression time and my little self-care moment.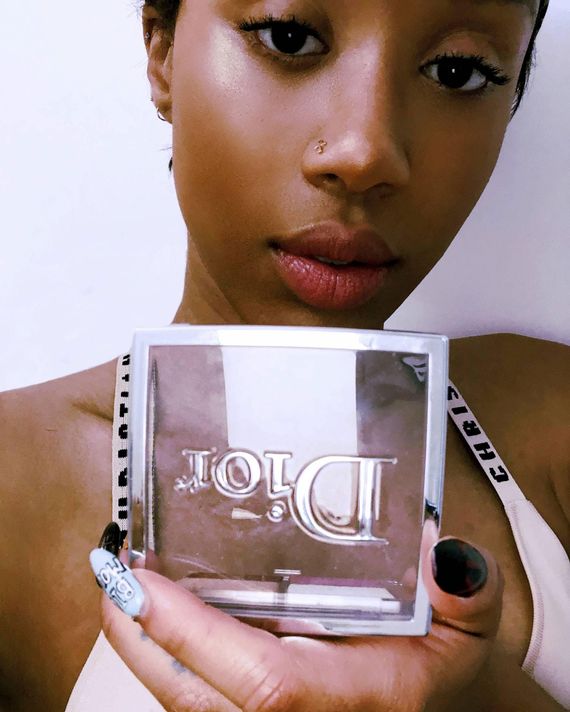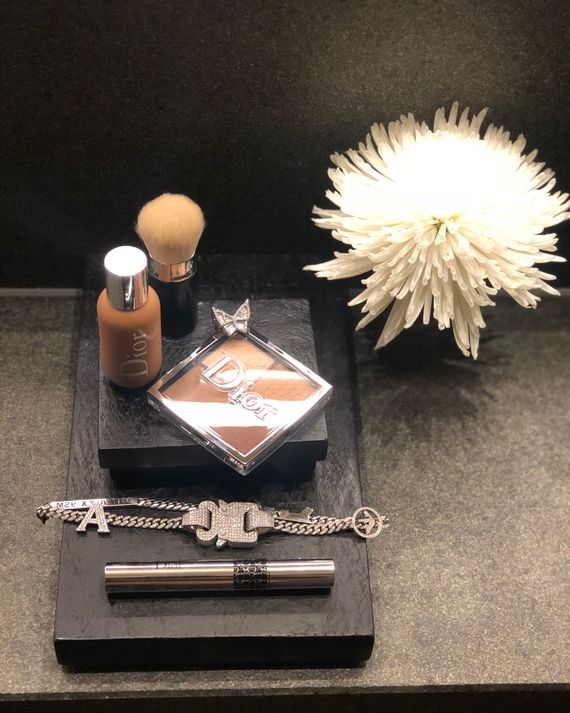 What time do you go to bed?
I don't go to bed. I literally just had this conversation the other day, my friend was like "When do you sleep?" I was like, I sleep on the plane and I've mastered falling asleep anywhere, so I sleep in my Uber rides and I sleep on the plane. I don't really have a bedtime. Right after Tokyo I went to Jakarta, then I came to L.A., and I'm literally flying to Dubai right now. The other day I tried to go to sleep and I couldn't, so I went to bed at 7 a.m. and then had to be up at 9 a.m. So I'm a napper. A professional napper.
What does your hair routine currently consist of?
Well! Right now I am bald. So I use Carol's Daughter Black Vanilla Leave-in Conditioner. I leave that in and use a hair oil and that's just like a wash and go. It's life-changing. I still play around with wigs and have fun, but now I get ready so fast, it's next level. I'm impressed with myself, like Oh my God, who are you?
How do you deal with jet lag?
To be 100 percent honest, I'm still trying to find my own remedy right now. Of course, when I land, I never go to sleep right away. If it's daytime when you land, you have to stay up until it's nighttime to force your body to adjust to the new environment, even if you're exhausted. I do that, but I think the hardest thing has been readjusting to my normal life when I come back to L.A. You know, get up, go to the gym, meditate, read your book … but I don't know what time it is, I don't know what day it is! But I'm working on it — we need the answer to this question!
What products are always in your carry-on?
I have my Glossier Boy Brow, a Becca highlighter, an Urban Decay bronzer — I like to look like I'm always tan, that's really all I care about [laughs] – and then my Dior lip balm, the natural one with no tint. With those, I can hop off the plane and be okay.
Ok, rapid-fire round…
Matte lips or glossy lips?
Glossy.
Cat eye or smoky eye?
Cat eye.
What's the last song that was stuck in your head?
"Girls Need Love" by Summer Walker.
What's the last thing you binge-watched?
I watched Narcos: Mexico all in one day because I had a lot of time. And The Haunting of Hill House, like a psychopath. I had to stay up until the sun came up, and I opened all my windows and turned on all the lights because I was so scared. And I was like Why do I do this to myself?!
What's your favorite snack?
It's between Santa Cruz Organic Cinnamon Apple Sauce and Reese's Pieces. Don't judge me, I'm literally like a 5-year-old.
What's on your phone's lock screen?
You know what, I'm going to take a screen shot and send it to you, because I think you need to see it. Just know that that is my mood 99.9 percent of the time because I never know what's going on.
What's your favorite holiday song?
I'm going to be so generic, but I love Mariah Carey's Christmas song. I was trying to go to her "All I Want for Christmas" show in Spain, but I have to work.
If you buy something through our links, New York may earn an affiliate commission.