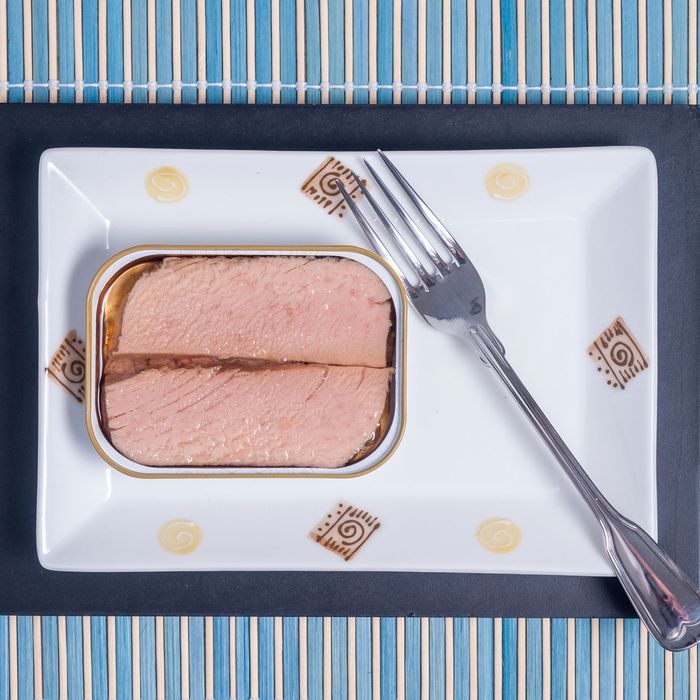 Photo: Andrej Andic/Getty Images/iStockphoto
According to The Wall Street Journal, canned tuna is dead, and millennials have killed it. Add that to the long list of beloved traditions murdered by millennials, from cereal to marriage to the Canadian tourist industry.
Quoth the WSJ:
In a country focused on convenience, canned tuna isn't cutting it with consumers. Many can't be bothered to open and drain the cans, or fetch utensils and dishes to eat the tuna. "A lot of millennials don't even own can openers," said Andy Mecs, vice president of marketing and innovation for Pittsburgh-based StarKist, a subsidiary of South Korea's Dongwon Group.
While the WSJ doesn't always nail its trend pieces, this observation had a ring of truth for me. I love tuna and will often buy a cucumber and tuna baguette from Pret a Manger — the perfect snack! — but I'll admit that I find the act of can-opening to be arduous. I don't have very much arm strength and sometimes I cut myself on the sharp can edge. For that reason, I don't eat at much tuna as home as I would like. I suppose I am a true millennial.
Still, in the interest of journalistic fairness. I decided to take a poll of my millennial colleagues to investigate the truth of this allegation. Based on my limited investigation, my peers are just as diverse and multifaceted in their tuna consumption habits as their fellow tuna-eaters throughout history. While most everyone owns a can opener, not everyone likes tuna, while others prefer a bag or even a jar. Here is what they had to say:
"I'm eating canned tuna right now. I go through phases. Sometimes I buy a couple of cans a week, other times I go a couple of months without buying any. I don't mean this to sound arrogant, but I don't remember ever not being able to open a can. I assume my parents must have taught me to use a can opener at some point because as far as I know it's not an innate human skill. As for my can-opening tactics, I have always held can openers vertically, and have had a 100 percent success rate using this method. A video this summer suggested you should actually hold the can opener horizontally, which also seemed to work. To each their own, I guess." —Madeleine Aggeler, staff writer
"I WILL AGREE THAT TUNA CANS ARE ANNOYING. I PREFER THE FOIL BAG — DOWN WITH CANS. Also, I don't like to feel like I'm eating cat food, which is what tuna in a small can makes me feel: like I'm a sad person eating cat food." —Allison Davis, senior culture writer
"I eat canned tuna with gusto. Though I don't eat it directly from the can, only because the can is sharp and I want to mix the tuna around with other stuff, but I'm not opposed. I realize as I type this that the can itself is not sharp, but the psychology of the lid is I guess what does it." —Edith Zimmerman, senior writer
"Fuck tuna. I'm a vegetarian, but the smell is too much to get past. I do indeed use a can opener. How else am I gonna open all the beans I eat
because I am a vegetarian? We have two can openers in my millennial apartment." —Hayley Schueneman, beauty writer
"I would consider myself tinned-fish evangelist, but I'm also a huge snob when it comes to seafood, so I like the fancy shit. If I'm making, say, a pasta with roasted tomatoes and tuna, I'll buy Genova-brand tuna in olive oil — the canning liquid detail is important, because tuna in water is disgusting. If I'm making food for a dinner party, though, and I need tuna, I will actually go to one of those obnoxiously expensive specialty shops and buy tins from Portugal or Spain. Please don't @ me." —Amanda Arnold, staff writer
"I went to the same elementary school as Nic Cage's son for a few years and have a strong memory of the son opening a tuna can badly and slicing his thumb pad off and having to come around to all of our classrooms to do a PSA on how to open cans safely. Truly cannot back up beyond my childhood memories; however, I feel like it definitely happened." —Olivia Natt, associate producer
Millennials: not having sex, still occasionally eating tuna.