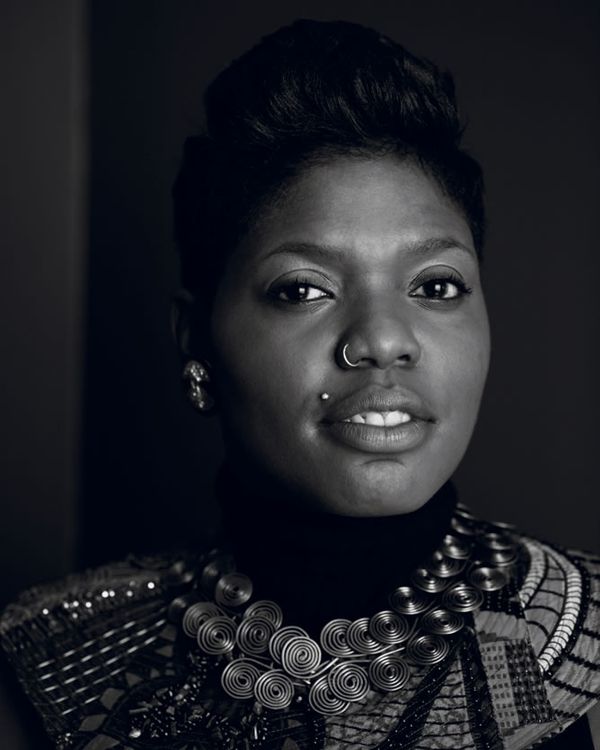 Ebony Patterson.
Photo: Grant Delin courtesy of Monique Meloche Gallery.
On the second-floor gallery of the Pérez Art Museum in Miami, Florida, the entrance to a new exhibit beckons. Images of vibrant, shimmering gardens make the space beyond seem both forbidden and enchanted. "Come," it says. "Smell the roses."
"I use beauty as a trap," the artist, Ebony G. Patterson, told the Cut in Miami this week. She was clad in colorful prints, with bright blue hair and multiple face piercings. "We live in a society where we're incredibly superficial and we can get lost within the prettiness of things," she continued. "We choose not to engage with the really tough questions that exist between those layers."
Patterson is the toast of Art Basel Miami this year. Christian Louboutin, who underwrote her PAMM exhibition, hosted a party for the artist on Wednesday night, and on Friday, Kickstarter also hosted a dinner in her honor. But Patterson is using her glamorous platform in the same way that she uses her art: to force her audience to look beyond the bling to confront unglamorous topics such as violence, conflicted masculinity, and invisibility — both within the post-colonial context of her native Jamaica and within black youth culture globally.
Titled … while the dew is still on the roses …, Patterson's work asks you to really study it, like a game of I Spy. At first glance, it depicts an opulent garden made up of flowers, glitter, lace, and beads. But up close, you'll find shoes, hats, and handbags hidden among the grass, along with disembodied shirts and pants. Who owned these shoes? And what happened to them?
"It's not just shoes; it's about the bodies that occupy them," Patterson explained of the stylish-yet-haunting fashion objects strewn throughout her work. "There's something creepy about them. You want to know their stories."
In her work, gardens and floral arrangements symbolize beauty and life lost. And by the end of the exhibit, you realize you're not in paradise, after all.
For the final portion of … while the dew is still on the roses … Patterson brings her gardens to life with a triptych video, which plays on loop and in slow-motion. In it, three shirtless young black men dress themselves in floral clothes and flashy jewelry as tears stream down their faces.
"I have conversations with young cousins who live in working-class communities and they've had experiences with police officers just because of the way that they look," Patterson said. "They're young, male, and going about their business — that's it. But somehow, that body is not to be trusted. And that body, too, is not allowed the possibility to be seen as vulnerable."
The work asks, Why do I have to strip myself for you to see me?
After watching the video, visitors are thrust back into the gallery space. "You have to reenter the chaos, and deal with it," Patterson said. "My ultimate goal was to have people leave the show crying."