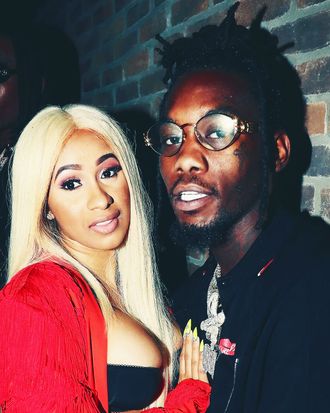 Cardi B and Offset.
Photo: Johnny Nunez/Getty Images
On the early morning of December 5, Cardi B took to Instagram to announce that she and Offset were breaking up, after over a year of marriage. "It's [nobody's] fault, I guess we just grew out of love, but we are not together anymore," she said in the video.
In the wake of the breakup, rumors spread about Offset's fidelity; within days, he began a sort of public campaign to win her back, which recently culminated with him interrupting her set at Rolling Live music festival.
So does anyone know what really happened? Let's break down what we know so far about the split.
First: What are these infidelity rumors?
Summer Bunni, a model who appeared in a music video for "Fefe," a song from 6ix9ine, Murda Beatz, and uh, Nicki Minaj, came forward almost immediately after the breakup in a tearful video sent to TMZ, in which claimed to have been Offset's mistress, and apologized to Cardi.
"I have not messed with Offset since he's had his baby," she said, adding that she "didn't know how serious this marriage was."
This isn't the first time Offset has been linked to cheating rumors. Last year, video footage emerged of Offset cheating on Cardi, but the pair appeared to work through it, with Cardi defending her choice to take him back.
That could be why a source told People following the breakup that the couple "obviously had huge problems for a long time," though this source did also say that the two are "still very close and really do care for one another.
What's been going on since the breakup?
Post-split, an onlooker at Art Basel told People that they witnessed Cardi looking "sad," though TMZ claims that she's "partying and doing fine," so take that as you will. And a few days after the breakup, she shared a photo of her and Offset's baby, Kulture, for the first time.
She also took to the stage at a show in Chicago to rap about the split, changing the lyrics to the song "Motorsport" to "I get up set off / I turn Offset on / I told him the other day / Yeah, we gon' get a divorce."
Offset, meanwhile, has been very vocal about the split. First, he tweeted about missing Cardi, succinctly putting it: "FUCK YALL I MISS CARDI." Sources told TMZ that he's desperately trying to get her back, but thinks he's being held back by the "haters" who flood Cardi's social media with negative comments about him.
He really didn't help his own case when he crashed her set at the Rolling Loud festival on December 15 (a festival where she was making history as the first woman to headline) to apologize for hurting her and beg to be taken back. Stage hands wheeled giant bouquets on stage that spelled "TAKE ME BACK CARDI" as Offset appeared, holding roses, a move that fans called "toxic" and a display of harassment.
Cardi did not seem to be having it with his behavior, though she posted videos to her Instagram thanking fans for their support, but also asking them not to attack Offset because he's still the father of her child.
The day after the festival, Offset tweeted to defend his display of affection, writing, "All of my wrongs have been made public, i figure It's only right that my apologies are made public too."
And if that wasn't enough drama, Cardi's publicist, Patientce, was seen escorting Offset to the Rolling Loud stage, fueling rumors that the entire thing was a publicity stunt that Cardi was in on. However, sources "close to both Patientce and Cardi" told TMZ that Cardi really didn't know Offset was coming on stage, and that this was just Patientce's way of trying to make things right, as someone who is close to both Cardi and Offset.
In a text post Instagram story, Cardi wrote, "Fan or not, you talk about my publicist/friend you can eat a dick PERIOD," so it's probably safe to say that she isn't too upset at Patientce over the whole fiasco.
This post has been updated with additional information.