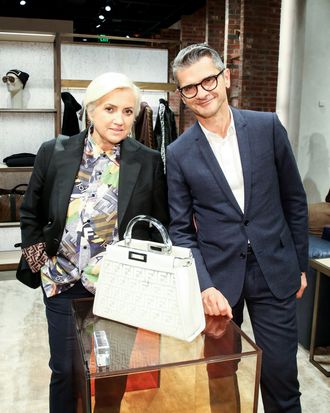 Silvia Fendi with Serge Brunschwig, Chairman and CEO of Fendi.
Photo: Marc Patrick/BFA.com
Over ten years ago, Silvia Fendi, a third-generation member of the Italian fashion dynasty, came to Miami during Art Basel to see what everyone was whispering about. She became fast friends with Design Miami co-founders Craig Robins and Ambra Medda, and was immediately impressed by the talent and energy cultivated by the the design fair. Soon after, she decided that Fendi should officially get involved.
In 2008, Fendi began hosting talks at Design Miami. They featured conversations between influential houseware designers including Fernando and Humberto Campana, Arik Levy, Tom Dixon, Paul Cocksedge, and Julia Lohmann. Fendi recalls that many of the designers she encountered in the early days have gone on to become household names — literally.
"We really think that fashion and design have something in common, which is the creative process," Fendi told the Cut on Wednesday night at the brand's boutique in the Design District. "It's about creativity but also functionality, which is not the case with art."
Over the years, Fendi has gone on to collaborate with various artists and designers on projects that focus on craftsmanship and hand-worked, natural materials. In 2015, the brand finally opened its 5,400-square-foot store in the Design District, commissioning designer and architect Johanna Grawunder to do the space. Today, it stands as a symbol of Fendi's commitment to design and the area's growth as a district.
"We're really working hard to make a statement about the future of retail," said Craig Robins at the Fendi store on Wednesday. Robins would be the mayor of the Design District if such a job existed. He claims that traffic in the area has increased 50 percent this year. So have sales, which is almost unheard of in retail these days.
For Robins, the shopping experience should never be just about clothes. Rather, it should be "the kind of experience that integrates culture, art, architecture, and design with these luxury and other fashion brands." In other words, you should be able to walk into a store and not only want to spend the day there, but maybe even the night. "Once we hit a certain level of critical mass, then adding residential and hotels and other uses will be the next phase," Robins added.
"I'm impressed by things that make me feel at home," said Fendi of what's stuck with her most over the years. She sat on a couch across from me at the Fendi store, with velvet Fendi pillows tucked behind her. On display around her were some of the brand's iconic Peekaboo bags, recently reinterpreted by five different designers to mark Fendi's tenth anniversary with Design Miami, as well as the bag's conception. Sure, they're works of art, but they blended in seamlessly with the rest of of the store's offerings — so much that I almost didn't notice them at first glance.
In truth, it hadn't occurred to me until my visit to Miami this week that the same brands that design my clothes might also furnish my home. (I'm not exactly in the market for a Rick Owens chair.) But in that moment, I didn't want to leave the couch.