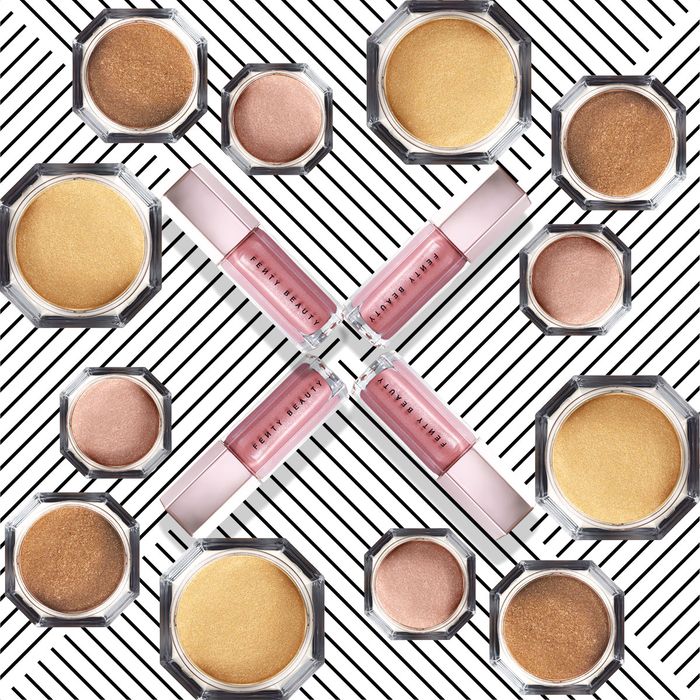 Something for every stocking.
Photo: Courtesy of Fenty Beauty
We've established that Fenty Beauty is the gift that keeps on giving. Rihanna's beauty line has been releasing new products — and new shades of existing products — pretty much nonstop. Keep it coming, RiRi. After blessing us with new shades of Stunna Lip Paint and an entire Holiday Chill-OWT collection, there's even more reason to celebrate: a new shade of lip gloss (Gloss Bomb) and glitter powder (the new Fairy Bomb Shimmer Powder).
First, we have a brand new shade of the Gloss Bomb, "Fu$$y". Described as a "shimmering dusty pink", Fu$$y joins fellow universally flattering Gloss Bomb shades Fenty Glow (nude rose) and Diamond Milk (shimmering pearl). Now there's a trio of Gloss Bomb shades that can finish off any holiday look with just the right amount of shimmer.
Second, there are a trio of loose Fairy Bomb Shimmer Powders available. The rose-gold shade Rosé on Ice was previously only available pre-packaged in a fluffy powder puff called the Fairy Bomb Glittering Pom Pom, but now you can buy it on its own along with two new shades: 24Kray (gold) and Copper Chill (you guessed it: copper). What could be a better gift than a trio of Gloss Bombs, or a trio of Shimmer Powders? Perhaps … all of them?
If you buy something through our links, New York may earn an affiliate commission.