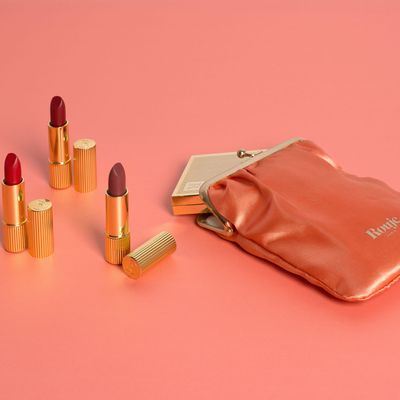 Merci, next.
Photo: Vincent Nageotte/Courtesy of Rouje Paris
Everything that's stylish about vintage French cinema has been encapsulated in the new Le Rouje collection from Rouje Paris. Well, almost everything: Men in turtlenecks sold separately.
Rouje, the lifestyle brand from French-girl influencer Jeanne Damas, debuted its capsule makeup collection today. It's inspired by vintage makeup, and the centerpiece to the collection is a compact filled with four lipstick shades. Each are meant to be applied with fingers for a perfectly messy, diffused look, or for a quick post-croissant touch-up. There's bright red "Jeanne," plum brown "Lamia," dark red "Camille," and a nude shade, "Emilie." If you become partial to one of the shades from your lipstick quad, you can purchase each shade individually in a tube as well.
Playing into the vintage sensibilities of the collection, Rouje released a video inspired by French New Wave directors like Godard and Truffaut. In it, a man sensually murmurs, in French, "When I look at your lips, I can read your mind." Check out the lipsticks below, as well as a clip from the video.
If you buy something through our links, New York may earn an affiliate commission.