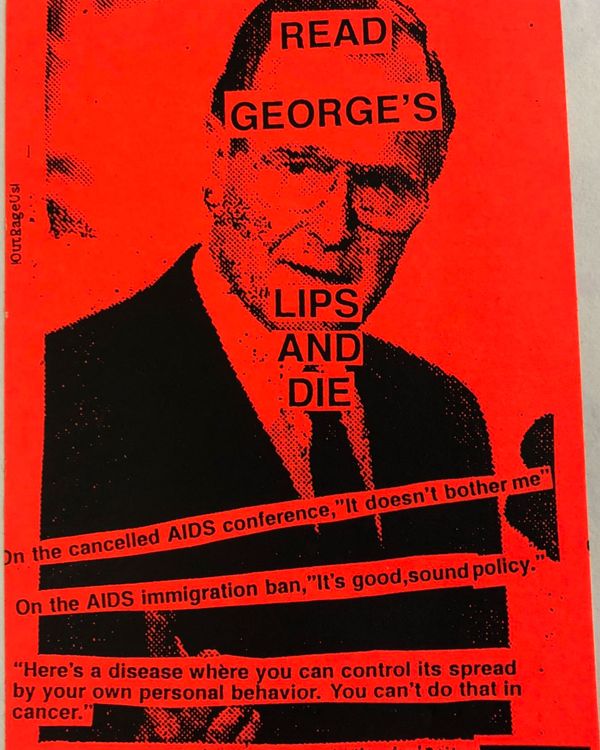 Photo: @joshhollands/Twitter
History will recall
George Bush did nothing at all.
I must have chanted those words hundreds times while protesting the Bush administration's inaction on the AIDS crisis with ACT UP (AIDS Coalition to Unleash Power) between 1989 and 1992. ACT UP was founded in 1987 in the epicenter of the HIV epidemic in America — New York City — to demand action to end the AIDS crisis. Today it is remembered as part of the Reagan '80s, but the reality is that much of the group's most intensive work took place during the administration of George Herbert Walker Bush. With ACT UP, I marched past the Bush White House down a Pennsylvania Avenue not yet closed to traffic. I rallied outside his Department of Health and Human Services, his Centers for Disease Control, his National Institutes of Health. And in 1991, I shook my finger chanting "Shame!" half a mile from his family's summer compound in Kennebunkport, Maine. More than 1,500 AIDS activists descended on the resort town on September 1 that year, bearing signs that charged Bush with a murderous neglect of the AIDS crisis, along with a 50-foot banner with a 32-point plan to end it.
The transition from the Reagan presidency to the Bush one was more one of tone than substance when it came to AIDS, a kinder gentler indifference. Messaging that repeatedly pointed to "behavior change" as the solution, without backing prevention programs known to work. A lack of leadership from the top. No central strategy. "He was not doing enough as a leader," Urvashi Vaid, the executive director of the National LGBTQ Task Force during the Bush years, told Pridesource after Bush's death. "I think that those pressures and protests led by ACT UP all over the country … that pressure is what pushed both members of Congress and the administration to do whatever it did. I can't say that enough." Added ACT UP founder and playwright Larry Kramer, "I will not give [Bush] credit for anything. He hated us."
Nearly a quarter century later when I had the opportunity as a political editor to participate in a several-day event at the Bush presidential library and museum, I thought about those years of protesting with ACT UP. For me reporting was always about other people's stories, not my own, and it was rare for my activist past to come up except as history that informed my understanding of the dynamics of new social movements.
But with Bush, I felt I could not forget myself. Could not forget the suffering I'd witnessed in New York — where AIDS was, during his presidency, the leading cause of death for men ages 25–44, or the way his election extended the oppressive culture of the Reagan years that saw so many of my friends kicked out of their homes in their teens for being gay. I passed the Bush library opportunity on to a colleague.
A president lies in state, as Bush is to do beginning today, not because he is kind to his family or has delighted those closest to him with his thank-you notes and a patrician manner, though those stories are important for historians to gather. A president lies in state simply because he was president; because he held power over the fates of hundreds of millions of citizens, and the direction of the world. How he used that power, or failed to use it, must be reckoned with by any who seek to fully understand his legacy.
To speak now, as several have, about the Bush administration's lack of response to the AIDS crisis is not about dishonoring the man's death, but about honoring the deaths of others who were equally beloved to their communities, but far from equal in power, then or now.
Perhaps if Bush had not died right on the eve of World AIDS Day, the desire to reflect on this aspect of his legacy would have seemed less urgent. "On a day when our wounds re-open," the calls to mourn Bush acted as an "extra dash of salt," another former ACT UP member wrote on Facebook.
But perhaps not: The fight against silence was an enormous part of the AIDS activist project to begin with, and in the wake of Bush's death it feels like some want to replace the silencing majoritarianism of the 1980s with an updated version of the same assiduous attention to the needs only of those who are already powerful and so avoid grappling with the late president's complex domestic legacy.
Bush's actions cannot be explained away as simply reflecting the times, either; during those years, there were politicians who stood up for the humanity of gay people, even as the majority of Americans turned against them and poll-measured disapproval peaked. Nancy Pelosi was one of them. You can see that in this 1987 video her team released on World AIDS Day.
Bush may have been lovely to those inside the circle of concern, but he drew that circle narrowly during a moment when it would have meant the world to draw it larger.
The Kennebunkport protest was the first time I'd been to Maine. I remember the cliffs in the distance, the cute gray wooden houses, the fresh mown lawns like the ones in Rockville and Bethesda, Maryland, where we'd stand around smoking by lilac bushes outside bland science administration office compounds in our black leather jackets and combat boots, like some kind of Eastern European émigrés.
"There were no arrests at the noisy but orderly protest," at the Kennebunkport demonstration according to a contemporaneous news report. ACT UP protests tended to be staged with the panache and precision of a Broadway play, designed with visible props and performed in acts that followed one after another. "We wanted the demo to look like Cleopatra's entry into Rome, and be visible everywhere in town: so we made those really tall vertical banners, which we did aerodynamics tests on in Jennifer Bartlett's studio, thanks to Tony Feher and Nancy Brooks Brody," ACT UP and Gran Fury member Avram Finkelstein wrote on Facebook Saturday, recalling the planning.
I was in a state of emotional overload that day. My friend and fellow Treatment + Data Committee member Jerry Jontz had died just days before the protest after a stay at St. Vincent's Hospital where I and others from T+D were part of his care team. We'd spent the past year working closely on a project to speed access to drugs to treat the opportunistic infections that killed most people with AIDS in that era before there were effective anti-retrovirals. Among other medications, he was taking an experimental drug available only through the buyers' club the People With AIDS Health Group, where I worked writing fact medical sheets. The hospital wouldn't give it to him, so we took turns arriving daily to dispense it ourselves. It was what we called a "what the hell drug," one believed safe but of unknown efficacy. "Can't hurt, might help, what the hell — might as well try it," went the thinking.
It didn't work.
I love this video of the Kennebunkport protest that another ACT UP veteran, Bob Huff, put together. It shows us not as the news so often portrayed members of the group — angry, scary outsiders — but as we saw each other.
Young, hale, handsome, full of so much love and joy in the sunlight. I love how the video seems to end with the die-in, but then it restarts, and everyone gets up again — a psychologically resonant staging of the mass death that was to come, yes, but also a fantastical, theatrical mass resurrection in which the dead rise, hug each other, and go out for lobster rolls before driving back to New York.