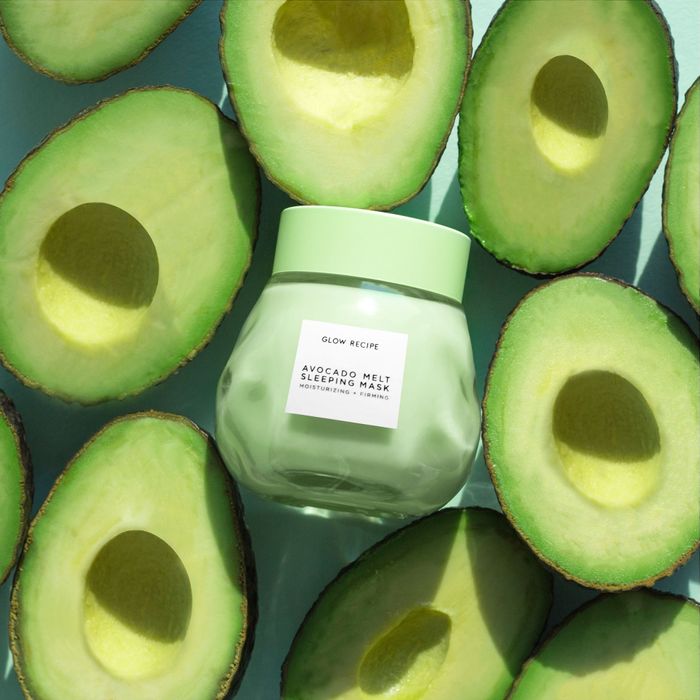 Avocado is the name of the game.
Photo: Courtesy of the Retailer
Ah, brunch: The word alone conjures images of mimosas, hollandaise, and of course, avocado toast. If you want to show up to brunch looking well-rested and alert, despite what the previous night's activities held, then a sleeping mask is a great way to give your skin an added boost. More specifically, this Avocado Melt Sleeping Mask from Glow Recipe. Just don't spread it on your toast.
Glow Recipe, the skin-care company behind Sephora's best-selling Watermelon Glow Sleeping Mask, has debuted another Instagram-produce-inspired product. This avocado version makes good on its name, since it uses four kinds of avocado in the formula: avocado flesh, avocado extracts, avocado oil, and avocado butter. Basically, it's taking everything that you love about avocado and turning it into one very creamy, very hydrating mask. Other key ingredients are soothing manuka honey and exfoliating polyhydroxy acid (PHA), which supposedly work together to improve your skin's texture.
The benefit of a wearing a sleeping mask is that your skin gets to soak up all that moisturizing avocado goodness for, hopefully, a solid seven to nine hours while you sleep. All you have to do is apply it before bed, sleep, and wash it off the next morning. It can also providing a bit of a protective barrier against environmental irritants (hello, central heating). It's a pretty easy way to add an indulgent layer to your skin-care routine, since it mainly requires you to, well, sleep.
If you buy something through our links, New York may earn an affiliate commission.