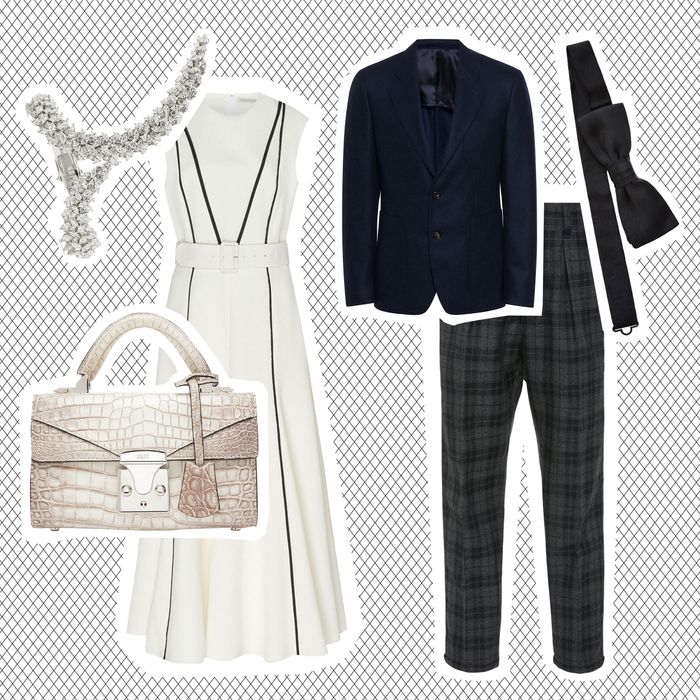 Photo: Courtesy of Moda Operandi
As the end of the year rolls around, maybe you're in a fulfilling relationship that takes work. Maybe you're keeping your options open. Or maybe you're triumphantly single. In any case, one thing that anyone in any of the scenarios above needs to do is … wear clothes. And whether you're consciously coupled to a sickening degree or flying solo to every holiday event, the best thing you can do is turn heads with those clothes. Because this traumatizing year is finally over, because you get to not go to work for a few days, and because it's the last hurrah before winter drones on until April. Scroll on for a few ways to dress with gusto this season — solo or with a significant other — featuring festive fashions from Moda Operandi.
For the Annual Blowout
There's always one party you'd actually be bummed out about missing — the one that reassures you that you can, in fact, still hang (thank you very much!). And you'll be miserable for the next three days to prove it. A fancy take on a pajama set feels both luxe and not too formal for the occasion, while for him, a plaid three-piece suit is clever (not stuffy) with a turtleneck and casual boots. Both looks are perfect for holding court in the kitchen, dancing badly, and even just maybe making it to the bar.
For a Cool Winter Wedding
There are people who embrace New Year's Eve weddings — and people who haven't yet realized they don't have to make other New Year's plans. While not all weddings can fall on a holiday that's cursed for social plans, you can still make the most of them by looking great. For modern nuptials (bingo if they're in a bookstore), a subtly mismatched suit or an easy-to-wear maxi dress will put you in the running for nonchalantly best-dressed guest. Add a bowtie or big, glitzy earrings, then wait for people to say you "clean up nice."
For a Milestone Celebration
When there's white linen and crystal involved, it's time to put on your most "grown-up" clothes. Not that these pieces actually correlate to age, but they should evoke timeless maturity in their structure and materials. When future you looks back at photos of your first holiday dinner with their family, or your engagement party, or nana's formal 95th birthday, you'll be glad you kept it classy, but with some personality thrown in: a sculptural piece of bling with a polished dress, or an on-trend velvet blazer with plaid pants.
All images courtesy of Moda Operandi.
This is paid content produced for an advertiser by New York Stories. The editorial staff of The Cut did not play a role in its creation.