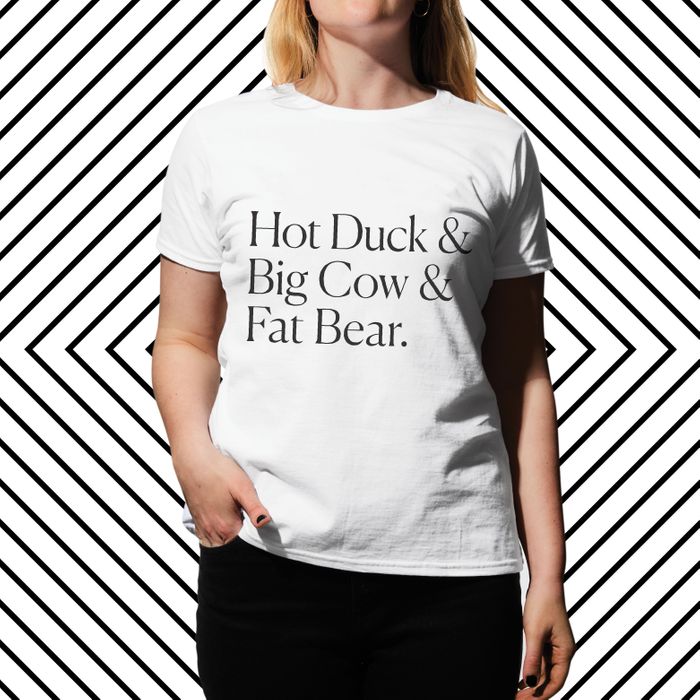 Photo: Courtesy of Amazon.
As promised, new and timely slogans that we're thinking about a lot will be added to the Cut Shop regularly. Here's our latest addition.
As human beings continue to let us down, the World Wide Web has turned to other, more reliable creatures for emotional and spiritual support, as well as entertainment.
First, there was the Fat Bear, a 409-pound beefy Beadnose beauty whose hungry preparation for the long winter ahead spawned an entire week in celebration.
Then, in November, the clouds parted and an objectively gorgeous Mandarin Duck splashed into Central Park Pond. In just over two weeks, he became not just New York's most eligible bachelor but also a bird celebrity, with many now referring to him fondly as the Hot Duck.
The Hot Duck has taken New York, and frankly the globe, on quite a journey. For a moment, he left, and then came back. He opened up about his emotional state, and he's also inspired a slew of his own merch.
No winged beauty will ever steal our hearts quite like the Hot Duck has, but there have been other animals clawing for our attention since. Like a Big Cow named Knickers, who spawned a thousand memes for his inability to blend into a crowd.
Each of these splendid creatures deserves its own merch — not just the Hot Duck. So we took it upon ourselves to create some. Below, choose your internet animal, or maybe you're all three.
See all the Cut Shop T-shirts, here.