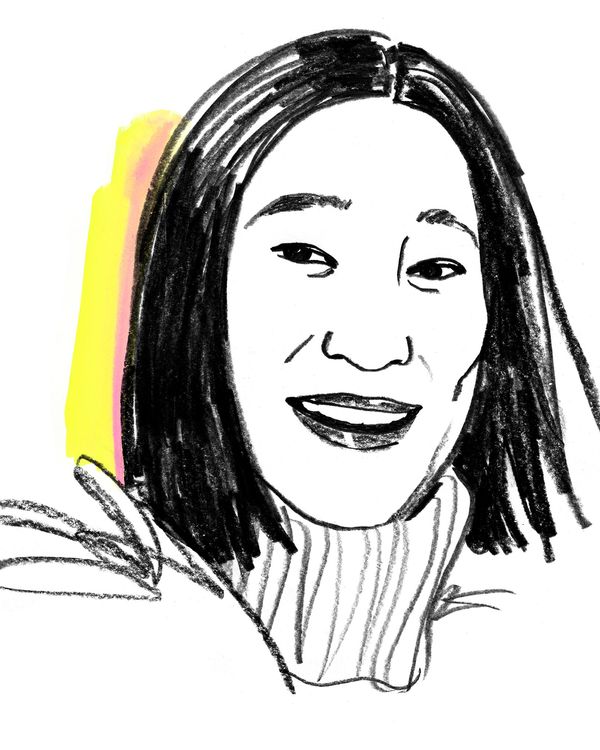 Few people understand Instagram better than Eva Chen. As the company's head of fashion partnerships, she's responsible for building relationships with designers, models, and editors. (She was instrumental in getting Stories off the ground.) A dedicated user with a million followers, she regularly posts pictures of everything in her life, from her two small kids to the CFDA Awards.
Before going tech-side, Chen worked as Teen Vogue's beauty editor for over seven years. In 2013, she was handpicked by Anna Wintour to be editor-in-chief of Lucky Magazine. Chen lives in New York City with her children, Tao and Ren, and her husband. She recently published her first children's book, Juno Valentine. Here's how she gets it done.
On her mornings:
I usually wake up anywhere between 5:45 a.m. and 7:30 a.m. It's dictated by my kids — they're my alarm. In the morning I basically hit the ground running. It's like, Oh my god, I have to make my daughter's lunch, I have to take her to school. It's just all systems go.
If it's not Fashion Week I literally just wear mom jeans, dad sneakers, and a grandpa cardigan — all sorts of family members' comfy clothes. Which is fine because people at Facebook and Instagram tend to have a chill approach to dressing. I'm at work by like 9:15, usually.
I always say that my life is like a house of cards. One kid gets sick and everything falls apart. I was uptown doing an interview for my book today and I got a call from my doctor: "Ren threw up three times today. " My mom had taken her to get a routine exam and she threw up, and I had to rush downtown, and it was a whole thing.
On green tea:
Am I morning person? Yes, because I have to be one. It's all propped up and kept functional by the comical amount of caffeine that I consume on a daily basis. I drink a lot of matcha green tea. There is a brand called Four Sigmatic and I drink their mushroom matcha. It's supposed to make you smarter, and I don't know about that, but I drink like six cups of it a day.
On her beauty routine:
I use a cleaning water every night. I'm trying to reduce waste where I can, so my new thing is using these renewable face cotton pads. Instead of the cotton pads that you throw out, you throw these in the wash and keep using them. I use those with cleaning water, and then I use a toning water. Right now I am using one from that brand Biologique Recherche. Apparently it's supposed to make me look like J.Lo.
Once in a while, I'll use one of those LED flashlight things. The one I'm using is from Skin Inc. And every other day I've started rolling my face with a Glo Pro. It's like at-home micro-needling. I use that and then skin cream, and that's it. I'm trying to inch back into my old beauty routine [from before kids]. It's never going to go back to nine steps, but every step counts.
On a typical workday:
Some days I'm just emailing and setting up meetings. But I was in Sao Paulo last week, speaking and doing panels and meeting with local designers and that was crazy. I was in a new place that I've never been before. Every day is different, but that's one of the things I really like about my job.
On her best email hack:
Think about the emails you send in any given day. You're probably responding to the same ten topics. For example, someone will invite me to an event and I'll be out of town, so my response is, "I'm sorry, I can't make it. I'm out of town." Instead of typing that out, I have it saved as a signature. So basically I have ten signatures saved on my email like, "Sorry I'm out of town I can't make it," "I'll be there," "CCing my admin to set up a meeting," etc. It makes a big difference.
On work-life balance:
I'm a Libra. When I think of the word balance, I think of a scale. It might be balanced for one second, but then it's always kind of tipping in one direction. And that's exactly what it's like.
I want to go to your party, but I'm barely holding it together right now. And I say that. I think it's really important that women admit that they don't always have it together. When I was sick for five weeks during Fashion Week, there were so many events and parties that I really wanted to go to, but I could feel my lungs, like, crumpling. You just have to be okay with missing things.
I try really hard at it. I also try to set an example for my team. I tell them to leave at like 5:00 p.m. to go to Barry's or Soul Cycle, whatever. We're all wired — we all have iPhones or Androids and laptops. If you want to take two hours, go to the gym and shower, and then go home and email for an hour and a half, do it if it'll make you a better worker and make you happy. Right?
On chasing her kids and juggling emails:
I usually leave work around 5:30 p.m. I get home by 6:00, 6:15 at the latest. And then I usually am with my kids for at least an hour and a half to two hours, and it's like intense play with the kids, chasing them, all that stuff. And then I usually go on email for another hour or two. It works for me right now. Is it going to change as the kids get older? Probably. But right now that's the way it works.
On how to be good at Instagram:
Some of the best people on Instagram work in fashion, but they're not posting fashion stuff. Sam McKnight, the hairstylist, he loves gardening and he posts these crazy flowers that look like they could be in the Royal Botanical Garden. Or there's this makeup artist, Dick Page, right? He's awesome and amazing. And he loves cooking Korean food. I love his Instagram. Phillip Lim post recipes and passages from books he's reading. It's like, post what you like. If you enjoy what you're posting, it doesn't really feel like work.
Today, I only posted once, like ten hours ago, because my day imploded because my daughter was sick. There are days that I don't post at all. But those are rare, because I almost always have something I want to post. I tend not to overthink it. On Stories, oh my God, I post, like, literally everything. Everything. Just because, living New York, we're fortunate to live in this awesome place where funny things are always happening.
On travel:
I usually travel about once a month, but with the book tour, I am going away for a not-insignificant amount of time. I go to San Francisco, where Instagram is based, two or three times a year. And I do Europe for the collections, but I don't go for the whole time. I try not to be away for more than four days in a row. I actually came home in the middle of Paris Fashion Week just to spend the weekend with my kids. Which is hard, and people were like, "Oh I can't believe you did that," but … I love fashion, I take it seriously, but my kids are only going to be this young once. Very shortly, there is going to be a time where they are like, "Mom, can you drop me off around the corner from school," and then I will be weeping profusely.
On writing a children's book while maintaining a day job:
It's funny — with children's books, people are like, Oh it's 1,000 words, it should be really easy. But it's actually surprisingly hard because every word is so impactful, and then you have to marry the image to the words. I was on completely the same wavelength with the illustrator, Derek, but it's like, you write the book, and then he does the illustrations, and then you rewrite the book to go with the illustrations. So a lot of things had to go by the wayside, including organization, cooking, television, movies, date nights. But we did it all in eight weeks, so it wasn't terrible.
On winding down at the end of the day:
I read every night before I got to sleep — a good old-fashioned print book, no screen. Sometimes I only get through like one page, other times I get through a few chapters. And I love a bath. We have been in our apartment for three years, and when we were renovating, I was like, We need a good bathtub. So we have a nice open bathroom where it's almost part of the bedroom, and I love a hot bath with some fancy bath salts or bath oils.