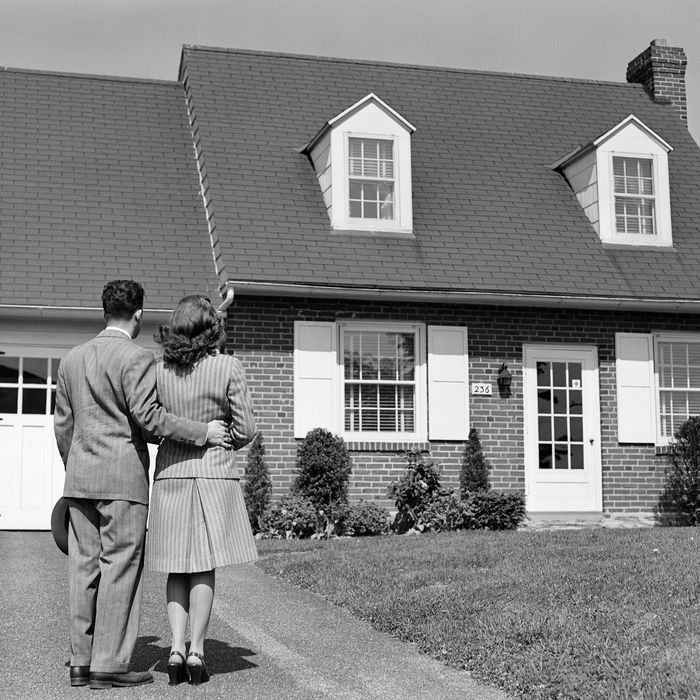 Photo: H. Armstrong Roberts/ClassicStock/Getty Images
After embarking on the home-buying journey, my first thought was, "This is terrible. Let's just rent forever." My realtor was throwing around terms like appraisals, inspections, and earnest deposits, and it felt like my head was spinning. After renting for eight-plus years in Philadelphia, figuring out how to buy a house was like learning a brand-new language. But with the rapid rate of job growth and development in the city, rising interest rates, and the possibility of a growing family, my husband and I decided 2017 was the best time, if any, to make the switch to home ownership.
We had quite a ride — our most memorable experience as first-time home buyers was when we settled on a house only to have to exit the contract because of an appraisal issue. I won't scare you with any other anecdotes, but we agreed that the house is not yours until you have the keys.
Buying a home for many can feel like an insurmountable task. It takes buckling down for sure. It's all about knowing exactly what's expected of you, asking questions, meeting deadlines, and if you're lucky, being surrounded by personnel who want to see you thrive in your new home. So how do you go from dreaming about a new place to moving in?
1. Check and Clean Up Credit Report
So many people think that they have to have a perfect credit score to buy a home. You don't. Some mortgage products only ask that you have a minimum score of 620. Sure, shoot for the perfect score of 850, but don't let it stop you if you don't have it yet. However, pay off any pesky bills! It will only make your mortgage application more attractive to a lender and will get you better interest rates which will save you money in the long run.
2. Save for More Than Just Your Down Payment
There are many other expenses outside of your down payment. From mortgage application fees to home inspections, you need a surplus of liquid cash. Tighten up the budget and put away every dollar you can to cover your down payment, an array of closing costs, and all the things you'll need once you close and move in.
You'll share a lot about your finances with all the personnel involved in your home buying process including your agent. "Communicate openly and honestly with your agent," says realtor Sarita Brown Mitchell. "I ask about salary, savings, investment and retirement accounts, access to gifts funds, and anything else related to providing a clear, financial [picture] of the potential homeowner. It helps me to understand how they will be able to fund the earnest deposits, home inspection, appraisal fee, mortgage application fee, and closing costs related to the purchase of their desired home."
These costs, of course, vary by state — in New York, for example, attorneys handle closing while in states like Pennsylvania, closing is handled by Title or Escrow companies which creates a great difference in associated costs. It helps to be clear on exactly what will be required in your area as you begin the process.
3. Acquire a Pre-Approval Letter
Most agents will not take on clients that don't already have a pre-approval letter. This helps them know you're a serious buyer and what price range is suitable. You'll be asked about income, assets, and they will pull your credit report and ask that you provide supporting documentation. Get started here.
4. Find a Real-Estate Agent
Realtor, broker, and agent are a few terms that often confuse potential buyers but they're all in the business of helping you find a home, submit a competitive offer, and negotiate terms and repairs. An agent is simply anyone who has obtained a real-estate license meeting the criteria in their respective state. Brokers work together with agents and/or realtors to write contracts and oversee all transactions for sales and purchases of homes, land, or commercial properties.
The realtor I worked with came recommended by a family member. The agent you choose should be someone you trust to have your best interest at the forefront as you will spend time negotiating and sharing intimate financial details with them. There's a lot of legwork you can do on your own, but there remain advantages to working with a professional. I received great resources from my realtor that included mortgage program recommendations and a home buyer starter e-book that was beyond the scope of simply finding the right home. They also may have access to listings that haven't gone public yet and many sellers won't work with individuals.
If you don't have a personal connection, find some options here.
5. The Fun (?!) Part — Shop Homes
You can go to open houses, browse listings on apps like Redfin or Zillow, and look at listings from your agent. Take notes, photos, and video because all the homes will quickly become a blur. Make sure that you also take in the neighborhood. Ride by the home at different times of the day to see any changes from day to night or vice versa. Here are some questions to ask: How old is the roof? Has there been any water damage? Read more here.
"The home-buying process can be very exhausting and difficult, but having a clear idea of your nonnegotiables may help to ensure you're happy at the end of the trying journey," says Mitchell. "Determine your nonnegotiables and stick to it. Maybe you're flexible on budget, but not on location. Maybe it's beds and baths, or the yard space. Either way, you need to be happy with the home you're going to be spending 30 to 60 days trying to obtain."
6. Make an Offer
Work with your real-estate agent to come up with an offer price for the home. Take into consideration comparable properties in the neighborhood and the home's condition. You want to come up with a fair price that puts you in the best position to gain the property without overpaying. Some tips and factors to consider: your options to opt-out of the contract, important deadlines for earnest deposits, and who will pay for various inspections. Read more here.
7. Get Through Inspection and Appraisal
These are two very important steps that can make or break the contract for your new home. After making your offer, the voluntary inspection is due within a specified amount of time. The inspection is not required in many states, however, as the buyer, it is your opportunity to ensure the integrity of the home because it's one of your options to terminate the contract or negotiate repairs.
Most often your agent will have recommendations but you can also opt to select your own certified inspector. The cost will vary from state to state but is an upfront cost to you independent of the outcome of the report. Your inspector should check everything from plumbing to wiring, the roof quality, and everything in between.
The appraisal is required and typically set up by the lender. A third-party company will estimate the value of the home by inspecting the property and using comparable properties that have recently sold in the neighborhood. The lender wants to know the true value of their investment.
8. Finalize your Mortgage Product and Application
There are papers on papers that you will need to exchange with your lender. These include tax documents like returns and W2s, bank statements, and pay stubs. Your lender will hire a title company to handle all the paperwork concerning the home and ensure that your seller is the rightful owner of the property you hope to purchase. Keep a well-organized binder, it saves a lot of time and frustration.
Closing day will literally feel like the sun has returned after a month of days with overcast. But holding the keys to your brand new home will totally be worth the blood, sweat, and papercuts it took to get them.