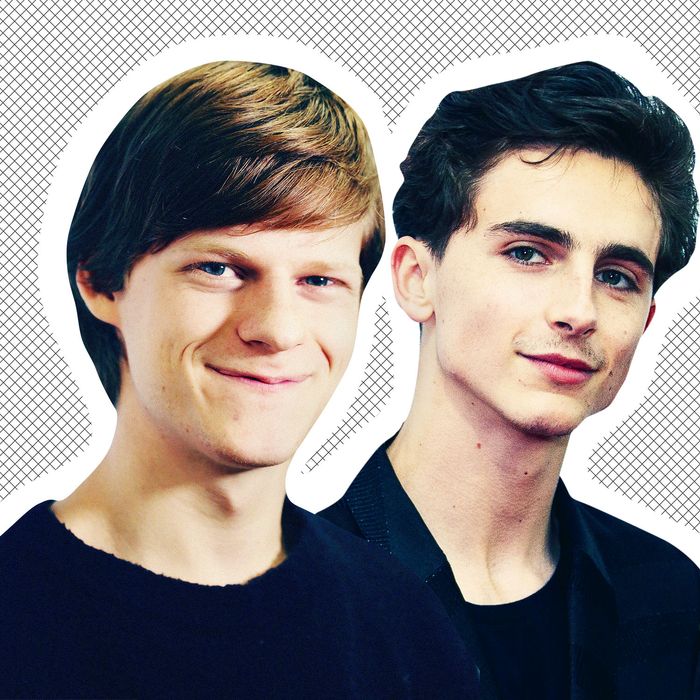 Who are you?
Photo: Getty Images
There are three movies out right now that begin with the letter B: Beautiful Boy, Ben Is Back, and Boy Erased. They all star Lucas Hedges or Timothée Chalamet. They all focus on fraught parent-son relationships. And honestly, this feels like the logical culmination of Timothée Chalamet and Lucas Hedges merging into one beautiful boy … erased.
The two have much in common: They both vied for Saoirse Ronan's affections in Lady Bird (which is perhaps the best evidence that they're actually separate people and not, in fact, interchangeable). If Lucas Hedges were to assemble a baseball team, he says he would absolutely draft "this other young actor named Timothée Chalamet" to be on his side. They have strangely similar résumés. And they've both, delightfully, brought their moms as dates to the Oscars.
Given all of this, you could be forgiven for occasionally mixing up the two. Hedges himself would probably forgive you. In a recent interview with Cosmopolitan, when asked to enumerate some differences between himself and Chalamet, he replied, "I honestly don't know. Every time I see him, I think, 'Wow, we're actually pretty similar.'"
But they do diverge on a few key points, promise. Take, for example, what Hedges described as the "main difference" between himself and Timothée Chalamet: They like different songs from the same Future and Young Thug album, Super Slimey. "I just loved one song off of it and I didn't know the song he was pumping to," he told Cosmopolitan. (Which two songs, he couldn't say.)
Still struggling to tell them apart? We've assembled a helpful guide.
• Lucas Hedges is 21; Timothée Chalamet is 22. What a difference a year makes.
• Lucas Hedges has had some great luck with his onscreen moms (the actors, we mean, not necessarily their characters): Frances McDormand, Nicole Kidman, Julia Roberts. Timothée Chalamet, by contrast, has had some stellar movie dads: Steve Carell and Michael Stuhlbarg, for example.
• Timothée Chalamet is going to star in Greta Gerwig's Little Women; Lucas Hedges only wishes he were so lucky.
• Timothée Chalamet likes floral suits and Lucas Hedges … well, there's no evidence either way.
• Timothée Chalamet parties with Barbra Streisand; Lucas Hedges parties with Madonna.
• Lucas Hedges once high-fived Gigi Hadid; Timothée Chalamet once went to Coachella with Bella Hadid's boyfriend.
• Lucas Hedges thinks his go-to karaoke song would probably be some Martha Wainwright; Timothée Chalamet has a documented history of enthusiastic rapping.
• Timothée Chalamet went as a Spider-Man from Spider-Man: Turn Off the Dark on Broadway for Halloween one year (which was basically a Spider-Man with crutches "because all of the Spider-Man guys were getting injured," he told W), but Lucas Hedges has really laid claim to Broadway with Cats!
Hopefully, this has helped to clear some things up.