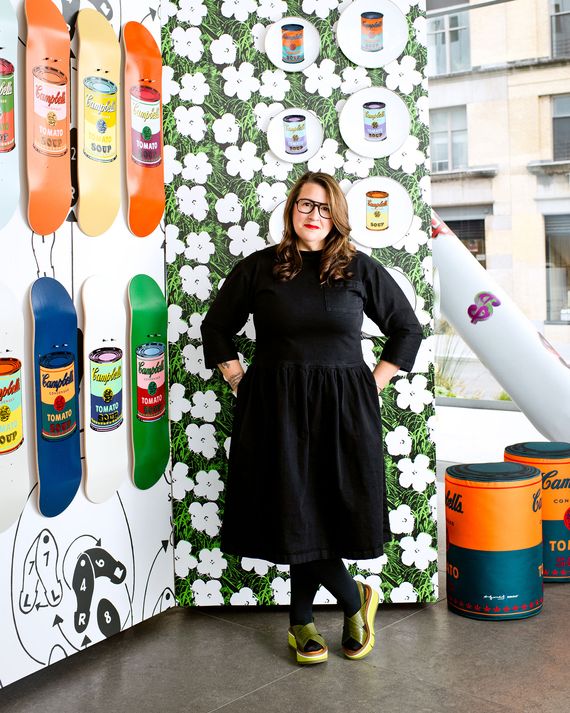 Lauri Freedman is evidence that it's possible to take 20 years off work and still come back to a cool job. Freedman is the head of product development at the Whitney Museum, which means she gets to select everything in the shop (other than books). She also co-curated an exhibit/pop-up hybrid with experimental young designers Eckhaus Latta earlier this year.
Freedman started working at the Whitney after spending two decades as a stay-at-home mom to three children. Going back into the workforce, especially in a creative field, she felt compelled to develop a personal style that was comfortable but also had an edge. She spoke with the Cut about finding her style at 47, wearing clogs, and the difference between dress codes and taste.
On her daily shoes: I never regret being comfortable, but I'm not a big fan of exposed toes at work, so it's usually closed-toed Birkenstocks (I love the Rick Owens ones with the long strap) or a chunky wedge Clergerie slide with socks. I have an oxford wedge by Eileen Fisher that has been a real go-to this fall, and perfectly worn-in Cobra Rock boots that have become a second skin. I feel like I can never go wrong with them.
Shop Oxfords
On her approach to dressing for work: My back-to-work wardrobe is a series of outfits that I feel put-together in, and then a lot of filler. Around the time that I went back to work, I went to a shop called Swords-Smith in Brooklyn with my daughter Lucy (who was a junior in high school then) and two of our favorite shopping companions, Josephine and Louisa. As an above-sample-sized woman, I am used to taking them places where they can shop and I get to be the "here, try this on" person, but on this particular shopping trip, after a couple of hours in the store, the sales associate gave me a Henrik Vibskov dress to try on. I was skeptical, but that experience was the first step in creating what would be what I can actually call a style — inspired very much by the aesthetic and vision of Briana Swords and her commitment to independent designers and what she calls a wardrobe for creative professionals. Sometimes it's a big button-up jumpsuit. Sometimes it's that Vibskov dress with a cardigan over the top. And sometimes it's two pieces from this new luxe merino Eileen Fisher collection I'm totally into because it looks great no matter how long I've been sweating in my seat before I need to stand up and speak.
On nights out: Regular going out doesn't require a change. I feel like that's the triple gift of 1) living in New York City where style outweighs dress code, 2) being a woman for whom style outweighs dress code, and 3) being a woman of a certain age who has a settled sense of self. So, 95 percent of the time I'm dressed appropriately at the office and for whatever the evening throws at me. For the 5 percent of the time I'm not, I tend to wear a long skirt and sweater, most recently with a pair of the sexiest Alumnae flats on the face of the earth. Kari Sigerson has always known how to make a woman feel sexy on her feet, and I never understood the appeal of toe cleavage until I tried on her almond mules.
On Mondays: I try not to schedule a lot of meetings on Mondays, so it's a catch-up day. I won't let myself out of my chair unless I finish whatever it is I was really supposed to have done on Friday (and that I promised myself I'd find time for over the weekend and didn't). So it's a great day for wide-leg jeans that look nice enough for work, or super-comfy pants such as the Black Crane bulb pant (which I own in four colors) and a sweater. The goal is to look pulled-together, but feel like I am still in my weekend loungewear.
Shop Wide-Leg Jeans
On personal style: I'm dressing for myself so that I can be un-self-conscious, speak confidently, take risks, and laugh out loud without worrying about a back-fat roll or whether I'm losing circulation in my feet. I'm dressing for my daughter because in her eyes I see a version of myself that makes me so proud. I'm dressing for the younger employees of the museum who are a size 16 or 18 or 20 and who compliment me on my clothes and ask me where they're from.
On returning to work after being a stay-at-home mom: It was terrifying to come back to work. Getting dressed every day terrified me. Learning how to check voicemail and use a copier again terrified me. Not being home to run a forgotten homework assignment to school terrified me. But I relied on my husband Douglas and my kids.
To moms thinking about going back to work, do it. Take all of those things you've been doing that you're sure are irrelevant — like being a class parent and volunteering for the spring fair and chaperoning on field trips — and add them to your resume. Each event I chaired and each committee I led turned into a bullet point on my resume. That made it easier to see myself not as someone who had taken a 20-year hiatus, but as someone who had continued to work my ass off, just in a very different environment. Once I could see myself that way, it was much easier to talk about myself in interviews.
Photo: Whitney Museum Of American Art
If you buy something through our links, New York may earn an affiliate commission.