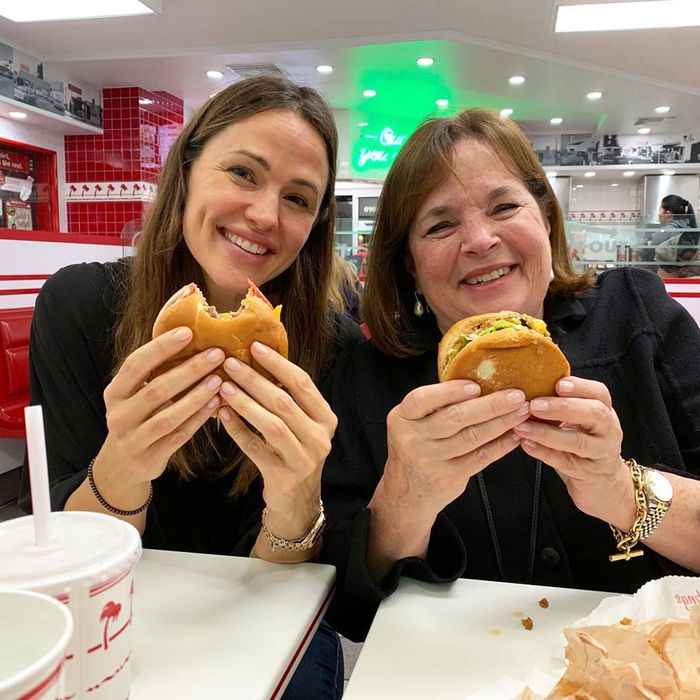 Two domestic goddesses and their burgers.
Photo: @inagarten/Instagram
When you think of getting dinner with Ina Garten — which you surely do, often — what do you imagine? Is it a trip to an In-N-Out? Because that's exactly what Garten planned for herself and a young aspiring cooking-show host, Jennifer Garner, earlier this week.
Garten's book tour for Cook Like a Pro brought her to Costa Mesa, California, on Wednesday night, and after her talk wrapped up, she and Garner made their way to In-N-Out to procure burgers — "Only the best for my friend," Garten wrote on her Instagram, captioning an image of the pair of them clutching their tender beef patties. (Garner is apparently currently dating John Miller, the CEO of another burger chain, CaliBurger, which was sued for trademark infringement for borrowing a little too much from In-N-Out. The intrigue!) "What a fun way to wrap up my fall book tour!" Katie Couric commented, "Omg FOMO."
Garner has been hosting her own cooking show of sorts — the not-actually-pretend #PretendCookingShow, on her Instagram — which amply prepared her for all this time she's been spending with her genuine celebrity chef friend. They've gone foraging in Garner's home garden for ingredients to cook together over the summer, and Garner even filmed a #PretendCookingShow for the Barefoot Contessa Thanksgiving special, during which she made Grandma Garner's sweet potato pudding.
Back in 2010, Garner told W Magazine that she was attempting to secure an introduction to the Barefoot Contessa, having failed to procure a spot on her TV show (despite a documented history of making Garten's boeuf bourguignon for various special occasions). "Eventually, she said, 'I'm sorry, I only use my real friends on the show.'" By 2015, Garten was cooking for Garner to celebrate her birthday. How far we've — they've — come.