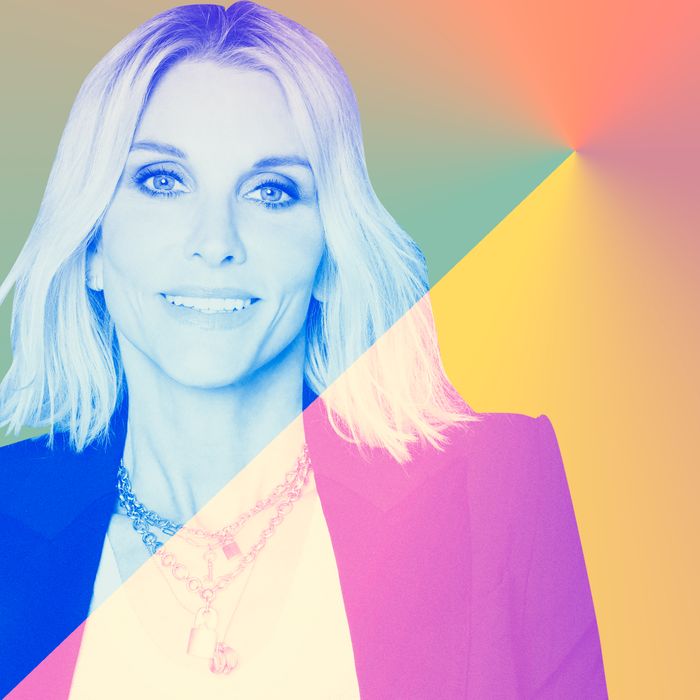 Photo: Courtesy of Jillian Dempsey Beauty
Makeup artist Jillian Dempsey has the coolest eyeglass frames. They're Celine (of course), and her blue eyes widen when she is demonstrating her new Gold Sculpting Bar, a device about the size of a razor, whose vibrating pulses are meant to de-puff and help tone skin. "I wouldn't put my name on this if it didn't work," she says.
Perhaps she got her straight-shooting demeanor from her native Texas, though Dempsey grew up in Los Angeles, and by her teens, found herself gravitating toward the punk scene. By 14, she was working at a salon and selling private-label lash conditioning oil to classmates at school. After graduation, she tried college, but decided to follow her beauty instincts and attend the Charles Ross School of Hair Design in West Hollywood.
She earned her degree, did a stint at Shu Uemura, worked on videos for Duran Duran, and even opened Delux beauty parlor with her sister, but doing both hair and makeup was too much.
"At some point, I realized I had to choose," she recalls. "I chose makeup because I liked painting faces." She's painted some notable faces, including Leslie Mann, Jennifer Lawrence, Kirsten Dunst, and Kristen Stewart, all of whom she's worked with for years (although her longest standing client is her husband, Patrick Dempsey also known as McDreamy).
Delux eventually became a makeup brand and caught Avon's eye. In 2006, she became their first global creative color director. It was a nice run (six years), but she had her own ideas percolating. "I always wanted to do something in the organic arena for people on-the-go who didn't have time to do step-by-step, A-to-Z makeup," she says. "Mine is lazy girl makeup."
The organic, "natural" Jillian Dempsey line debuted in 2015 with one item: Khol Eye Liners. Lid Tints followed a year later, then Cheek Tints came out earlier this year, and, this month, the Gold Sculpting Bar.
"Why do brands have to create an entire wasteful line of everything?" gripes Dempsey. "As an artist or creator, we have a sense of what's needed to help people. Why not create hero products that make sense so you can explain to your customers why they would want to wear them? I like to get lean and mean in my beauty routine."
Dempsey spoke with the Cut about her wrestling talents, the reason she doesn't own fancy towels and her love/hate relationship with tortoise poo.
Bath or shower?
Shower, with Molton Brown Coco and Sandalwood shower gel.
Shampoo/Conditioner of choice:
Virtue Labs Recovery Shampoo and Conditioner.
Most relied on hairstyling product and/or tool:
Pin curl clips from Tokyo, and Oribe Creme for Style, and sometimes a Dyson.
Facial cleanser of choice:
Three Clearing Foam, from Japan.
Scent of choice:
Abel Golden Neroli
Favorite CDB product:
Looking. Can you recommend one for sleeping?
Scented candle of choice:
Le Feu de L'eau in Ivoire.
What, if anything, is usually on your lips?
Nuxe Honey Lip Balm or [Japanese brand] MMO Lipstick in 01.
What beauty look do you just not get?
Gold iridescent glittery highlight on upper cheekbones in broad daylight.
Who's the funniest person you've ever applied makeup to?
It's a tie between Leslie Mann and Jennifer Lawrence.
Which client made you the most nervous? Perhaps a story from your early days?
An actress once hit me with a hairbrush because it wasn't a Mason Pearson. It was one of my first jobs doing hair and makeup. I tried to hide from her the rest of the day.
Bag of choice:
Bottega Veneta large Roma bag in black. Also known as, my house on the road.
Work shoe of choice:
Onitsuka Tiger sneakers.
Casual shoe of choice:
Adidas solid black slip-ons.
Netflix and chill outfit:
Bleusalt hoodie and lounge pants.
What do you have too many of?
T-shirts.
Top item currently at the top of your fashion wish list:
Celine gray cashmere coat.
Fashion item you can't believe you once used to wear:
I can think of a few bizarre caps and overalls.
What is your classic daily uniform?
Gray or black jeans, T-shirts, belt, sneakers, and my Jillian Dempsey custom-designed rose-gold jewelry, stacked.
Bed linens of choice:
Frette.
Towel brand of choice:
I'll answer this once our twin boys stop using our towels so I can buy nice, pristine ones.
Toilet paper over or under?
Proper etiquette is over, but I like the under. Not going to lie.
Any random childhood claims to fame? I could beat anyone at arm wrestling, even any boy.
Favorite podcasts?
I really like Hillary Kerr's Second Life podcast.
What phrase or word are you known for saying?
"This is the thing." And "The thing is…"
What tests your patience?
The disrespect of animals.
What word or phrase drives you crazy when others say it?
"Kiddo."
Last great book you read?
I'm currently reading Life After Life by Kate Atkinson. My sister and I are obsessed with her other novel, Case Histories so she got this one for me.
Who would star as you in the film adaptation?
I guess Leslie Mann is a top choice. She is younger, so I'd need to do her makeup to age her, and add on prosthetic "man hands" to mirror mine.
What do you do or take when you can't sleep?
Meditation.
Jetlag cure:
Sit for 20 minutes, eye closed, outside facing the sun. It resets the entire body.
Cold cure:
Colloidal silver.
Headache cure:
My manicurist, Crystal and her magic hands on my neck and temples. Also, coffee.
Hiccups cure:
Hold your breath and count.
Favorite smell?
My farm animals, oddly. I have 14 animals (and they were fortunately safely rescued from the Woolsey fires). Two donkeys (Mable and Styx), my pig (Hank), three goats (Larry, Moe, and Juliette), four roosters, a tortoise (Clover), three rabbits, along with three dogs at home and four lizards.
Least favorite smell?
My farm animals' poop! Especially my 150-pound tortoise!
What do you think Pantone's color of 2019 should be?
Basically what it is! Coral is an all-time fave shade of mine. It looks so different on everyone. There are coral shade beauty-radicals out there and I'm in the club. Orange hues are known to be associated with creativity, balance, freedom, and fun. I think this world could use that about now.
What item stresses you out if you're running low on it?
Paul Scerri Ultra Active Eye Contour Cream that I've used since I was 20 years old religiously. I get depressed thinking it may go away. I'm addicted to the scent and the weight of the formula. My eyes soak it up. I will buy every last container and put it in refrigeration if I get wind of this happening.
If you could hire anyone, who would it be?
My daughter.
Favorite meal and where:
Pomme frites, spring rolls, truffle risotti at Café Avenue, Paris.
Comfort food:
Justin's Peanut Butter Cups.
Most impressive dish you make:
Lettuce cups filled with mint, vegetable, and tofu scramble.
What food would you never eat?
Anything with four legs.
Most recently binged TV show:
The Sinner.
What product in your company's domain is misunderstood and should be a best seller?
I wish more people knew that my Lid Tints can also be used as great "mixers" with powder eye shadows. As an artist, I think about mixing the medium to help move and blend and get a perfect flow. It's the best version of "worn-in."
Yes,this is cruel, but what is your favorite product in your domain?
Rich Brown Khol Eyeliner. It's the only thing that gives my eyes the proper smudge. It adds definition but still looks like it's naturally mine.
What do you foresee as the top beauty trends in 2019?
Brighter lips and cheeks. I see less focus on contour and overstated brows. I have noticed some thinner brows lately, but I don't want history to repeat itself completely! Once you over-tweeze, they rarely come back!
If you won the Power Ball tomorrow, what are the first five things you would do? (After, of course, donating the majority of it to your top charities…)
Buy a farm sanctuary to rescue animals as well as a lab in Tokyo, and to be able to produce endless amounts of organic, natural beauty products.