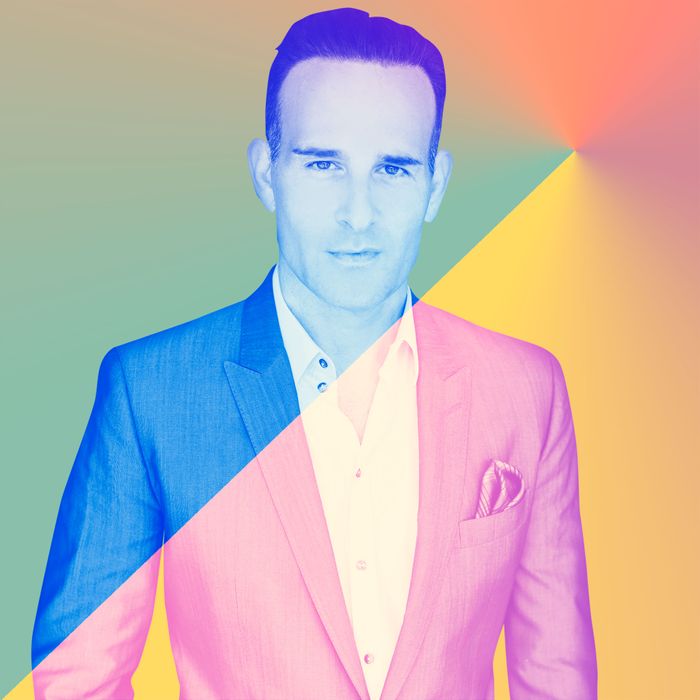 Photo: Courtesy of Paul Jarrod Frank
Thank goodness for Dr. Paul Jarrod Frank's mom. Frank grew up in a medical household; his father is a dentist, but it was his mother, a nurse, who gently steered him toward dermatology.
"She rarely saw dermatologists in the hospital, and when she did, they were the best dressed and the most relaxed," he remembers. "She also used to theorize that if people had chest pains, they'd walk around with it for weeks, but the minute they see something on their skin, they run to the dermatologist!"
Snappy dresser though he may be, Frank gravitated toward dermatology (which happens to be the toughest specialty to get into) not because of his sartorial preclusions, but because of its artistry.
"I always say my two favorite things to do are sucking and filling," he smiles. "I've always been busy with the face, but I love the three-dimensional structure of the body, and in the last few years, it has become as common as the face [for requested procedures]. "
Back in 2001, Frank opened his practice straight out of med school (with not one patient, a bold move!). Cut to present, he's in the same Fifth avenue office, albeit with significantly more real estate to accommodate both patients and procedures for his expanding PFRANKMD & Skin Salon. While a pop-up in Miami lands every winter, plans are in the works for a redone Manhattan location downtown.
"In other cities, patients come in saying who they want to look like, whereas in New York, most people come in saying who they don't want to look like," he says. "Here, most people don't want to look done. When you look like you had something done, you're going to the wrong doctor."
Dr. Frank spoke with the Cut about his erstwhile career spinning records, his roller disco skills and his decades-long respect for Velcro.
Bath or shower?
Any time I am not running, I prefer being in a warm body of water — a bath. And music is always playing.
Deodorant of choice?
Sure.
Who cuts your hair?
Craig Stodola at Oscar Blandi.
Did you ever go through a longer hair phase?
When I had more hair, I tried, but it just grew up and out — which was fine for that brief stint in the '80s.
Ever bearded?
Never bearded. Five days is my max for unshaven — makes me feel sloppy and lethargic.
Scent of choice?
Tom Ford Fucking Fabulous.
Favorite scented candle?
Abd El Kader scented Cire Trudon Candle.
Daily uniform?
Custom suits by Nigel Curtiss, with no tie.
Weekend uniform?
Anything John Varvatos.
Socks of choice?
Missoni.
Preferred underwear brand?
Calvin's, what else?!
Top item currently at the top of your fashion wish list?
A great fedora.
Fashion item you would never wear?
A seersucker suit.
What's your chill out and watch TV outfit?
Outdoor Voices sweats.
How do you stay fit?
SoulCycle, weightlifting, and swimming.
What are you terrified of?
Too much free time.
Window seat or aisle?
Aisle. I like quick access and escapes.
Stick or automatic?
Racing paddle shift.
Childhood cereal?
Nut & Honey Crunch.
Grown-up breakfast?
Avocado toast with smoked salmon.
Any random childhood claims to fame?
Growing up in the Manhattan private school system of the mid '80s, before Manhattan was gentrified, we would throw weekend parties in huge practically abandoned Soho loft spaces for all the city kids to converge upon. I was the resident DJ.
Whose artwork would you love to have in your home?
More Ryan McGinley.
What do you carry your stuff around in each day?
I carry as little as possible — my phone and a Tom Ford card case.
What phrase or word are you known for saying?
"Making shit happen."
What word do you over-use?
"Aaaannnnd…..?"
What drives you crazy?
Tardiness.
Last great book you read?
The Monk and the Philosopher.
Last great film you watched?
Won't You Be My Neighbor.
What celebrity do you know would be your friend, if only you met?
Tom Ford.
Favorite smell?
Beach.
Least favorite smell?
Bananas.
What is always in your fridge?
Several varieties of Maille Mustard.
Snack vice? (or just plain vice?)
Insomnia chocolate chip cookies.
What do you think Pantone's color of 2019 should be?
Farrow & Ball Railings — it's more blue than black. Black is such a staple and there are so many rich untapped forms of it.
What song is currently in your head right now, and are you happy about it?
I just saw the Velvet Underground exhibit, one of my favorite bands. "Sweet Jane" is a regular soundtrack of my mind — always happy about it.
What item stresses you out if you're running low on it?
Time.
What do you wish you had invented?
Velcro — I'm still amazed by its engineering and functionality.
What would you still like to invent?
A skin adhesive that really optimizes and leads to scarless healing. There is nothing close to it on the market.
Name a trait or talent you possess that few know about?
I am an amazing disco roller skater. My parents owned roller skating nightclubs in the early '80s and that's all I did growing up.
What are you working on mastering?
Like fashion a few generations ago, the cosmetic service market is very dichotomous right now. There are high-end cosmetic services mostly at doctor's offices (such as my own), and then there is the poorly regulated med spa industry with Groupon-driven quality of care and questionable providers and services.
We want PFRANKMD & Skin Salon to grow as an expanding brand of aesthetic services and locations. We want to make high-quality aesthetic services more accessible and affordable. It is a niche that has yet to be created.
What is your achilles heel?
Lack of sleep. You don't want to be around me with less than seven hours of sleep.
Name of your most-listened to Spotify playlist:
My own — Below the Belt Garage Mix.
Favorite spot in the entire world?
My meditation garden of my Bridgehampton home.
What do you foresee as the top beauty trends heading into 2019, and why?
Home technology. Patients are tired of relying on just creams and serums. Everyone wants what is in a cosmetic dermatologist's office — just at home.
What product (or device) in your domain is misunderstood and should be a best seller?
Since its invention 30 years ago, Tumescent Micro Liposuction, performed under local anesthesia, is still the safest, quickest and most effective way to remove stubborn areas of fat. I have been doing it for 20 years and it is still the most appreciated predictable home run procedure in my tool chest.
Yes, this is cruel, but what is your favorite product in your domain? MDNA Skin's Chrome Clay Mask and Rejuvenator Set. It is a product I put my mind and heart behind as a perfect combination of everything one would want — home technology, high end nature-based serum, and the reinvention of a skin-care classic — the mud mask.
If you won the Power Ball tomorrow, what are the first five things you would do?(after, of course, donating the majority of it to your top charities…)
I would meditate immediately, then call my lawyer, change my phone number, and tell my father I was wrong in reprimanding him for throwing away money on lottery tickets. Then I would start the journey of funding my own start-up device/pharma company, by hiring the greatest minds I have met in cosmetic dermatology. I have always dreamed of creating my own brand of at-home and in-office professional aesthetic technologies to impact and drive the future of my field.