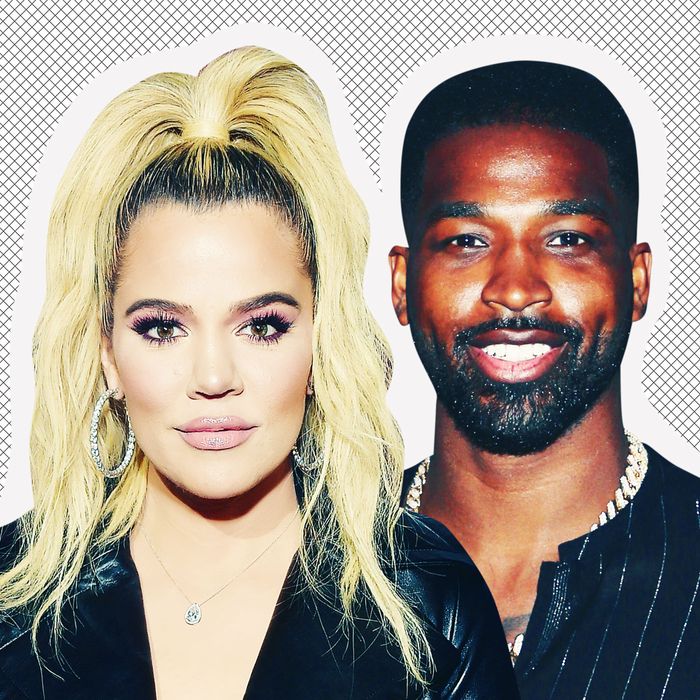 Us Weekly, as ever, has news: The tabloid reported yesterday that Khloé Kardashian wants to have another baby with Cleveland Cavaliers player Tristan Thompson. Yes, that would be the man who cheated on her throughout her first pregnancy with baby True, now 7 months old. According to Us, Kardashian thinks her relationship is "fine" after the cheating scandal, and "nothing will stop" her from trying to expand her family.
"She isn't pregnant yet, but they are actively trying," a source told the tabloid. "Khloé loves being a mom. She wants True to have a sibling."
Just weeks ago, rumors emerged that Kardashian was planning to break up with Thompson once and for all, but unfortunately that has not come to pass. Instead, it seems that Kardashian is genuinely excited about moving forward with him. The two spent Thanksgiving together with his family in Cleveland, and he even posted a photo of it on Instagram (his first post about Kardashian since she gave birth):
And the Kardashians' personal KCNA, E! News, confirmed last night that Kardashian wants another baby. "Things are up and down with Tristan Thompson, but she would like more kids with him," a source told the site. "That's what she feels will make the most sense for True and their little family."
So, there's a story line to look forward to on the 15th season of Keeping Up With the Kardashians.
Remember Chloë Grace Moretz? The 21-year-old actress who once seriously feuded with Khloé and the rest of the Kardashians is dating someone new, according to TMZ. On Monday night, she was photographed making out with Playboy model Kate Harrison, 27. Per TMZ, the two had dinner at the paparazzi-friendly Nobu in Malibu and then went to Soho House. They were both wearing really cool coats and boots (17-photo slideshow here).
According to TMZ, Moretz and Harrison are "sharing a rental pad in L.A., so it's possible this is more than just a holiday season hookup."
They have also both previously dated children of celebrities: Moretz famously dated Victoria and David Beckham's son Brooklyn Beckham, and Harrison dated Gene Simmons's son Nick Simmons. (Harrison's dad is the actor Gregory Harrison.)
It is 2018, and Jessica Simpson and Natalie Portman are fighting. This spectacular turn of events began Tuesday, when Portman mentioned Simpson in a USA Today interview about her new film, Vox Lux. "I remember being a teenager, and there was Jessica Simpson on the cover of a magazine saying 'I'm a virgin' while wearing a bikini, and I was confused," Portman said. "Like, I don't know what this is trying to tell me as a woman, as a girl."
While I don't think Portman was trying to offend Simpson personally, Simpson didn't appreciate the comment and responded quickly on Instagram. I love how she wrote "@NataliePortman" but didn't actually @ her.
Then Portman apologized in the comments. Amazing!
One small blessing from this week:
Jenna Dewan's new boyfriend seems nice.
And here's an interesting blind item from this week, care of Enty at Crazy Days and Nights:
"Apparently professional reality stars were brought in to the upcoming former almost A- list mostly movie actress' new reality show because our actress was wasted half the time and so much stuff that could not be used."
Finally, I'll leave you with this photo of Pete Davidson, the comedian John Mulaney, and Chloë Sevigny sitting courtside at the Knicks game on Monday. According to E! News, Davidson is "dating again" after his split from Ariana Grande. Good! We should all be dating again.
Thank you for gossiping this week. Don't forget to email me at allie.jones@nymag.com, send me a message on Twitter, or contact me on Signal if you'd like to chat.