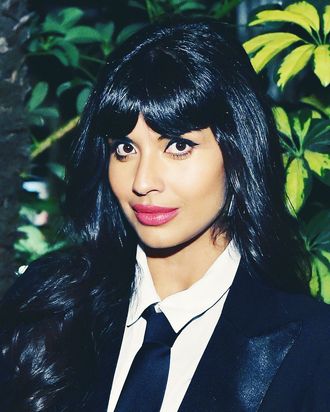 Photo: Stefanie Keenan/Getty Images for ELLE Magazine
Jameela Jamil has vowed never to stop coming for "people, men and women, who perpetuate this gross culture of forcing women to remain small and doll-like in order to be accepted by society." Her tireless advocacy against body-shaming — which has seen her taking on magazines for overusing Photoshop, and celebrities like the Kardashians for hawking weight-loss teas — recently culminated in an op-ed about why we should ban airbrushing.
In a piece for BBC as well as a series of tweets on Sunday, Jamil wrote about why she feels airbrushing is a "crime" against women, and should be banned.
"I think it's a disgusting tool that has been weaponized, predominantly against women, and is responsible for so many more problems than we realize because we are blinded by the media, our culture and our society," she wrote in the BBC piece.
Her comments may have come from a good place (sorry), but Jamil is now facing social-media criticism from people who say that, while she has a point, the way she's going about these discussions isn't helpful — nor is the call to make airbrushing illegal. Plus, some people are wary of her constant calling out of other celebrities, especially as someone who's also already conventionally beautiful.
Jamil, for her part, seems pretty aware that she's going overboard, but says she's not planning on stopping anytime soon.
"I know I'm being a bit extra over this whole thing, but the war against women's bodies/general image is ongoing and out of control," she tweeted last week. "Teen surgery, eating disorders and self harm are at an ALL TIME HIGH. So it's going to involve a big noise to fight back. Don't like it? Mute me."