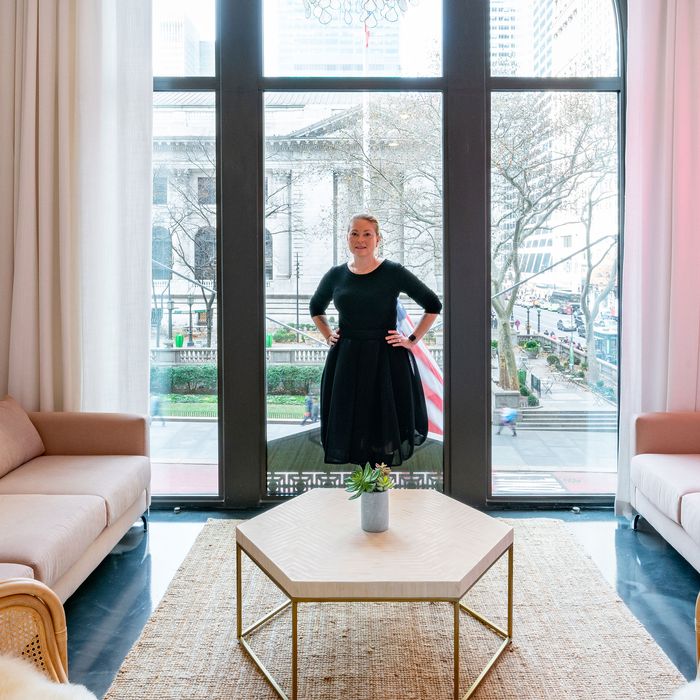 Vargas in her new salon.
Photo: Jeremiah Unruh
You know that celebrity who makes you want to ask, "Why is your skin so good?" Chances are it's one of Joanna Vargas's clients. The facialist has always been in high demand to get a variety of celebs — like Julianne Moore, Elisabeth Moss, and Rachel Weisz — red-carpet ready. Vargas recently opened a brand-new salon in New York, which will function as a corporate headquarters for her salons as well as her eponymous skin-care brand. She spoke with the Cut about the real purpose of a facial, her take on whether sheet masks are necessary, and the one skin brightener everyone should incorporate in their routine.
Some people aren't sold on the value of a facial. What does getting a facial actually do for your skin, both immediately after and in the long run?
The value of a facial is really in getting your skin assessed by an expert and having them tell you what your skin needs and what products they think will work for your skin. You also get a really deep exfoliation, facial massage — which is really good for your lymphatic system — and a deep pore cleanse.
Most women want to have great skin, and there's so much information out there that it's nice to have a professional assess what your needs are and tell you what products you should be using, rather than just wandering through Sephora or buying a bunch of things you read about online.
The first time I visited a facialist, I told her I had oily skin. She inspected my face, and told me I actually have dry skin and wasn't using the correct products.
Yes, exactly!
Do you find that a lot of patients have these misconceptions about their own skin? How do you help them build a better understanding? 
A good facial is all about educating the client. Often I think what a lot of people get wrong is exfoliation. They're either using an acid for every step of their routine and are experiencing sensitivity from that or they're just making the skin produce too much oil because they're stripping the skin too much when cleansing.
Are there any products you used to be skeptical of, but now use regularly?
I always found it a challenge when a client was using a lot of retinol, because it makes the skin really sensitive. Depending on what retinol you're using and how frequently you're using it, it can lead to a lot of abuse of the skin. So I researched it and developed my own retinol serum, and I actually love what it does to the skin in the right formula.
Paula Begoun has taken quite a stance in the skin-care world, claiming that sheet masks don't do anything. What are your feelings on sheet masks?
Well, considering I have six sheet masks in my line I kind of like them! [Laughs] I think it depends on the formula and a sweeping statement like that can't possibly be accurate. Perhaps some sheet masks don't do anything, I don't know, I haven't tried them all. I think when you invest in formulas and put clinically proven ingredients into a sheet mask they can be super effective and especially handy for clients who travel a lot and want to take extra care of their skin. Everybody who buys my sheet masks have been really happy with them.
I'm a fan of sheet masks, so it's good to hear that!
Yeah I mean, they're handy for a lot of different reasons! All my actress clients use them on set before they go into hair and makeup. But I think overall, anything that makes a client take a little more time for themselves and take a little more care of their skin is a positive for me.
Apart from wearing sunscreen, what's the best, universal practical advice you would give someone?
Skin basics are very simple and they're all kind of universal: You have to wash your face before bed and you have to be using formulas that are feeding your skin the right vitamins and nutrients. I would highly recommend that everyone include a vitamin C product in their daily regimen. It's very effective in actually stopping cell mutations from pollution and the sun.
In your view, how much of good skin is due to genetics vs. environment vs. good practice?
Good skin really comes down to good practice. I mean, you might have a friend that can eat pizza every day and go to bed with her makeup on and nothing bad ever really happens to her skin, but I find that bad practices do catch up with you eventually. I'm all about educating clients that it's not really a genetic predisposition at all. I focus on treatments and products that can make skin healthier so it can function as a proper barrier.
What are you most excited about for your new salon opening?
There are so many things! I'm going to introduce some new treatments, of course, but I'm really excited to see how people react when they see how beautiful the treatment rooms are. Coming up in the business I saw a lot of treatment rooms that were really small, and really dark, and this salon is going to be big in every way. There are 15-foot floor-to-ceiling windows in the space.
My intention is that when a client comes for a facial, she feels like she's coming to someone's really luxurious home where she can relax and forget about everything else in her life. It's going to be very New York, obviously, but have a lot of elements of California style as well. I think its going to bring everything that my brand is about together into one space.
Joanna Vargas Salon, 501 Fifth Avenue, Floor 3, New York, NY.