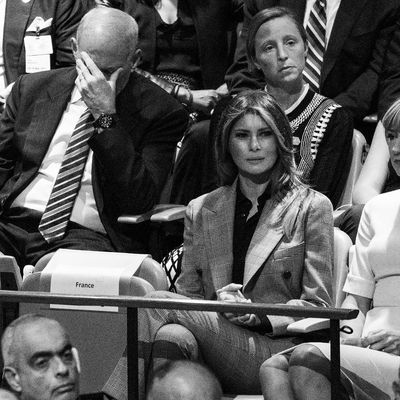 John Kelly.
Photo: Mary Altaffer/AP
On Friday, CNN reported that President Donald Trump's chief-of-staff John Kelly is expected to resign from his post soon, citing two sources. The outlet also reported that Kelly and the president aren't even on speaking terms anymore.
This news isn't entirely surprising; rumors that Kelly wanted to resign (or may get fired) have chased him throughout much of his tenure in the White House. Back in February, it was reported that Kelly offered to resign after defending former White House staff secretary Rob Porter amid domestic-abuse allegations. Later, James Comey said Kelly called Trump "dishonorable" for firing the former FBI director. It was also reported that Kelly has called Trump an "idiot" behind closed doors (which he denies), and the chief-of-staff publicly joked that his job was a "punishment from God."
Beyond that, the New York Times reported in June that Kelly also called the White House "a miserable place to work" — which aligns with the many pictures of the general at work, seemingly looking openly miserable (and often in the face-palm position). In the new report, CNN points out that it seems Kelly's relationship with the president is now beyond salvageable, and that the president has been complaining that Kelly isn't politically savvy enough for the next two years of term.
So, given the report that he may soon depart the Trump administration, let's take a look back at Kelly's apparent misery.
There was the time he listened to the president give a speech at the U.N. General Assembly in September 2017 …
… which Toronto Star reporter Daniel Dale tweeted occurred at the moment Trump called North Korea a "band of criminals."
There was also the infamous face-palm during an agricultural round-table at the White House (right around the time that the news he called Trump "dishonorable" dropped).
Kelly also looked pained while listening to Trump send his best wishes to Porter (who was fired following the aforementioned abuse allegations) at the White House.
And here he is at a gathering for governors at the White House, in which Trump discussed the NRA after the horrific Parkland, Florida, school massacre.
There was also the time where he listened to the president field questions about the deadly white nationalist rally in Charlottesville, Virginia.
We'll never forget this misery.