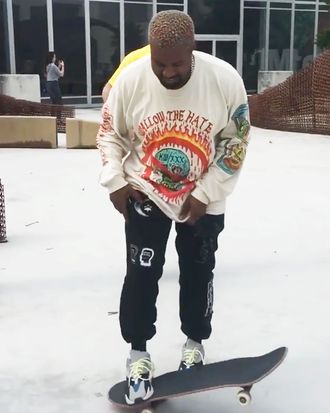 Kanye West.
Photo: @araspa/Instagram
Kanye West knows how to do many things, but skateboarding is not one of them.
During Art Basel Miami this weekend, while attending a block party hosted by Jenkem magazine and Andrew, a popular skate shop in Miami's Design District, the 41-year-old artist found himself on the receiving end of a challenge.
"You ever tried to Ollie before?" asked Alex Raspa, a skateboarder and Jenkem contributor. In a video shared by the magazine on Instagram, you can see the whole exchange, which took place in the Lot 11 Skate Park across from Andrew.
"I never learned," West replied. Raspa offered him a 101-lesson on the spot. "Teach me how to Ollie right now," West said.
So Raspa broke down the steps. "You got to be comfortable," he said, showing West how to hold his body and where to place his feet. West watched closely, deciding after about 15 seconds that he understood. "Do a little one," Raspa offered, handing over his board.
Wearing Yeezy sneakers, his new favorite Brain Dead x Gustavo sweatpants, and a "Swallow the Hate" shirt from his "Skins" merchandise collection for the late rapper XXXTentacion, West steadied himself on the board, crouched low, and then, in fact, did a little hop. The crowd cheered. West smiled, and then Ollied again, only to fall the second time around.
West didn't give up, though. He Ollied again. And then again, and again, each time to bigger and bigger applause. His jumps were still conservative, though, and West knew he was being gassed. "I need some air," he said with a laugh. "Don't give me no dap for that weak ass shit."
Seeing that this all went down during Basel weekend in Miami, onlookers might have thought Kanye West's skate lesson was a piece of performance art. But no, West was just another cool dad at the skate park, trying to learn new tricks.