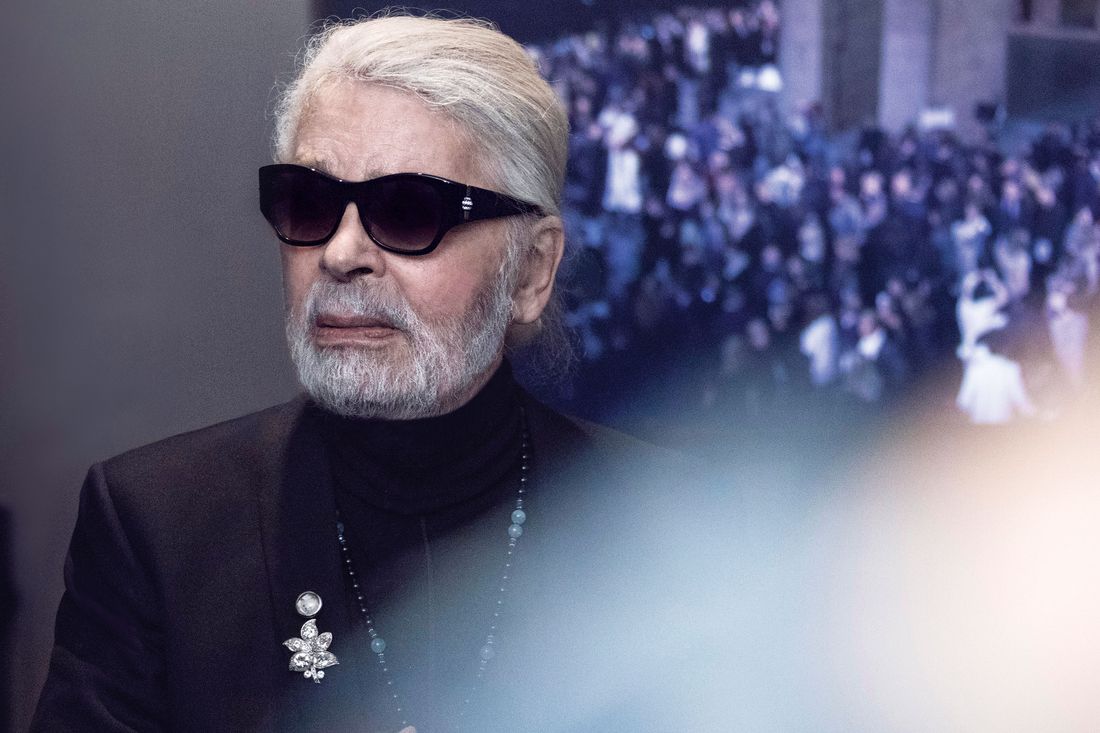 Scenes from Chanel's Métiers d'Art show at the Metropolitan Museum of Art on December 4.
Photo: Karl Lagerfeld
This interview was originally published on December 9, 2018. It has been republished following Karl Lagerfeld's death on February 19.
"Yes, that's fun," says Karl Lagerfeld, not quite convincingly, waving a fingerless-gray-gloved hand toward the bookshelf in his office at Chanel's headquarters on the Rue Cambon, when I point out a sign next to his desk that reads I LIKE BORING THINGS.
A Warholian concept, of course. Lagerfeld's floors are silver, like in Warhol's Factory. Lagerfeld not only knew Warhol and all the people in his circle in that 1970s VIP way but even acted in his 1973 film L'Amour — tighty-whities, sideburns, and all. As I'm ushered past a holographic portrait of Lagerfeld, which keeps an eye on you as you come in, it occurs to me that he and Warhol were born only five years apart: two studiously aloof, voraciously inventive, and mythically self-invented gay men who realized, perhaps above all else, the charismatic necessity of publicity and of fame. And they knew this decades before the rest of us ever got on Instagram.
"I was 6 years old," he tells me. "I was sitting on my mother's desk in the country estate, in the big house — on her desk, where I was not supposed to sit and sketch — and I said to myself: You will become very famous."
Lagerfeld is still slyly vital at 85, still generating epigrammatic semi-diversionary declarations about himself (Are you writing a memoir? "I have nothing to say. I make an effort not to remember. I don't have to live in my own dusty past."), still wearing that 19th-century wing collar and cravat. This evening, it's affixed with a pin of his cat, Choupette.
The outfit is a vestige of his peculiar youth, when he didn't have any idea how to be young and so dressed and spoke like an aristocratic adult. He has outlived almost everyone in his circle, his bohemian peers, his lovers, his friends, his would-be rivals. "Now they're all dead. There is not so much left," he says. "I'm born to survive." He counts off to me the stats; it appears that many of his relatives lived for a century, or more.
Which isn't quite eternal life, but Lagerfeld has certainly positioned himself for some version of pharaonic immortality, not unlike Coco Chanel, whose fashion house he has directed since 1983 and whose apartment and atelier (in a building still owned and used by the house, though she actually always slept in the Ritz across the street) is a few doors down. We were meeting a few days before he was to come to New York to roll out Chanel's 2018–19 ancient-Egypt-themed Métiers d'Art collection at the Met's Temple of Dendur — this year's version of the interstitial collection Lagerfeld creates every year to showcase the 26 traditional-couture-craft workshops owned by Chanel, from Lemarié, which works with feathers, to Montex, a specialist in beading. It's one of ten collections he does for the $10 billion house every year ("My contract is for four," he notes), to feed the unquenchable global desire for all things Chanel.
These ten are not counting his gig designing for Fendi and his side hustle, the Karl Lagerfeld Collection (which he calls the "cartoon" version of himself). If there is one thing that fashion people complain about these days, it's the relentless pace of the job, the fact that there are no longer seasonal breaks to rest up and get inspired, but that schedule not only agrees with Lagerfeld — he helped invent it.
That week, the internet had gone after him for having dared to go out in public in the midst of having dental work done, and truth be told, while most of us will be lucky to look nearly as good as he does at his age, in person, he's not the imperious posthuman glamour commandant he appears to be in most photographs. With the beard, he is appealingly human, in fact. At times, adorably so: The one moment in the interview where he took off his sunglasses was when he picked up his phone, which has the initials KL embossed on the case, to show me texted photo updates of — he says "from" — Choupette. On the sofa, on the bed, lounging around looking, yes, very much like the child-princess surrounded by servants in Velázquez's Las Meninas, to which he's often compared her.
Meanwhile, outside, the world was a good deal less ordered: In districts where well-off women buy and wear luxury brands, the Yellow Vest protests against economic inequality were just turning violent. But deep inside mother ship Chanel, everything felt in control — which is the idea, after all, of Chanel, an elegance to ward off all bad things — the unsettling real world held safely at bay.
I toured Coco Chanel's apartment while I was waiting to speak with you. The woman who works there could annotate everything in the apartment: the furnishings, which reminded Chanel of the convent orphanage in which she was raised; the gifts from her lovers; the statues that she would speak to as if they were her friends when she was lonely. It was like a reliquary for her inspirations. Do you feel bound to that history?
When I took over, nobody talked about her. I reinvented the references, but that's a good thing, no? Everybody said to me, "Don't touch it." It's dead, because 35 years ago, old labels were old labels. Now everybody wants to revive a label, and some of them, I don't think it's a good idea. But this was before Tom Ford and Gucci.
Many of those reinventors haven't lasted.
No, because they're not like me.
I'm very lucky. I have owners who let me do what I want.
And why do the Métiers collection?
It's something I initiated because one part of the year there was something missing. Chanel owns all those companies. Let's use them to make a limited collection.
It's fascinatingly meticulous work.
I don't know how they do it. I never would be patient enough. I would die from boredom. [He points to a sketch.] The dress was over 4,000 pieces of feathers cut in the same dimension. How can you do that?
At the Métiers, they told me that by law they have to all be feathers from birds that have been eaten. Even the ostrich—
I'm not sure they are. [PR person: "They are."] I don't eat chicken birds.
You don't eat chicken?
I only eat what doesn't look anymore like what it was when it was alive. I can only eat hamburgers. I am not inclined to steakhouses.
How do you stay engaged with the world if you're too famous to go out?
Today the world comes to you. I read every magazine and everything. There are very few people as informed as I am.
Do you scroll your smartphone for information?
No, no. I think it's great, but I have assistants who inform me [about] what I have not seen. Personally, I have no time. I don't do internet, I don't do Facebook. I have to sketch, I have to play with Choupette, I have to sleep. The day is too short for that.
Chanel's Instagram account has 31 million followers.
I don't even know how it looks.
It's self-assured, not thirsty for attention. That shows the power of the brand.
Well, I can tell you, when I took over the brand, oh, there was not power.
You moved to Paris when you were quite young, leaving Germany behind.
I'm very drawn to Germany, but to a Germany that doesn't exist any longer, [that] died in 1933. If they became Nazis again in Germany, I'd throw my passport out of the window … My mother said Germany without Jewish people is like a dish with no salt.
Your mother seems to have been an incredible influence on your life.
Yes. She was strong, funny, mean, and exactly what I needed, because as a child, I had a head like this. [He holds his hands outside his head, like a beach ball.] I was beyond pleased with myself, beyond.
She's still in your head now, telling you things?
I hope so. But I'm not a poor victim of Dr. Freud, kill the father or the mother, no. They were supportive, very protective.
And they didn't mind your being gay.
It was not even a subject. My mother said it was just like your hair color.
That's an amazing attitude.
Especially then.
Are you a mentor for others?
I hope not, but maybe. I don't know. I'm surrounded by young people, but I am not a lesson-giver. I had a lot of people, not all of them were successful, but most of the people I work with here, they've never worked for somebody else, so … And the people who ask themselves if they could do better than me, they all failed. I don't give you names because they are forgotten.
Have young people changed?
Yes. I prefer them now. Because they are freer, they are more informed. I like the moment we are living through, but not the yellow raincoat in the street. [PR: "The Yellow Vest protesters."] I'm not French. I don't have to have opinions about French political events.
You have never voted, right?
Never. You voted? [Looks incredulous.]
Well, yes. Why do you think people are so upset now?
You know, if you know the money they have to [make it through] the month, you understand. It's horrible, no? They want a little more cash, and less expensive, how you call it … [speaks French] gasoline.
Do you drive?
No. I was a very bad driver. I had two accidents that were my fault — where I fell asleep — and it's a miracle that I'm still alive, but I never touched a wheel again. You know, as a child I was told by my mother, you must learn nothing. You always have to depend on people, because then you have to make an effort to have the money that they will do it for you.
So you were destined to have a staff.
I don't know how to cook, I don't know how to make a bed. I only know sketching and talking and making collections.
Can you imagine not working?
What do you want me to do? I have millions of books I want to read, but that's not very creative. And I think I work better now than before. My brain is clearer. And I want to work. I'm working class.
You?
I said that to a French left-wing writer, he said it was a scandal to talk like this.
What else do you do with your time?
I like to stay at home and go to Rome, but social life is from another era.
Now you have a cat instead.
Yes. Yes. My Choupette.
Was that a surprise, that the cat became so important for you?
It was more than a surprise, because my best friend, Sandy Brant, had a cat, and I thought it was too much, the fuss about the cat. Then a friend of mine came with Choupette and said, to one of my mates, not even to me, "I'm leaving for two weeks, can you keep the cat?" When he came back, I told him that the cat was not returning to his house, and I kept it, this kind of genius creature.
Very much like you, perhaps, solitary and—
I'm not pretentious enough to say yes.
She's coming to New York with you?
Yes, of course. She is always on the knees of the pilots. She loves private jets.
I've never flown on one, but I would imagine they're nice.
She adores them. You know, the problem with private jets is that even if you have a big one, if you have many people [aboard], then it is a nightmare. More than three or four, forget about it. I remember I came back from Moscow and brought all my assistants. It was the worst flight, because they asked for drinks and this and that. I like to sleep in planes. Or I close my eyes and clean my brain.
How long has it been since you flew commercial?
Twenty years? It's awful these days, especially if you're vaguely known, they photograph you with the iPhone and things like this. Oh, no, no, no.
Do you have many close friends?
I like my friends to have their own life. I want nobody to depend on me. I love children, but other people's children. But I'm very good with children, very good.
You said once that was because you understand how they think.
Yes, exactly. I was a child myself once, and I have those overspoiled godsons, the famous Hudson, no? He is very good, knows how to dance, how to sing. He made an imitation of Michael Jackson in front of a thousand people. But I always tell him, "The minute you are not good in school anymore, you will not ever be spoiled anymore." He wanted something very special but impossible to find, and a friend of mine — a very famous person who knew him since he was born — got him what he wanted. A few weeks later, somebody in an elevator in New York saw him with it: "Where did you, little boy, get this thing?" And he said, "I know the right people."
How old was he when he said that?
Nine. It's a good answer, no? I wasn't sure that at 9 I had answers like this.
No, you were in the country and you had cows around you.
Yes, yes, I love cows. I could be a farmer.
You were in an Andy Warhol movie.
Yes. Not the best one.
And you were shirtless and kissing women in it.
Why not? I mean, I was not a monster, no?
No, but it was a different version of you, one of several you've abandoned over the years. Not all gay men know to not keep playing the young version of themselves.
But I am not frustrated, you know?
What do you mean?
If people live only one life with not a very fun youth, they are frustrated. I did what I wanted whenever I wanted. It was pleasant, but today, I would be bored to death by it. If you want to look old, try to be young. Nothing is worse than that.
Annotations by Sarah Spellings.
*This article appears in the December 10, 2018, issue of New York Magazine. Subscribe Now!
Tom Ford's stint as creative director at Gucci, which began in 1994, is considered one of the most successful designer takeovers of a brand. He's credited with having revived the label, in part by understanding that sex sells.
Over time, Chanel has bought up the artisan-run businesses that provide the brand with specialty services, such as embroidery, feathers, and lace-work.
Lagerfeld was born in Hamburg, Germany and moved to France in 1952.
Brant is the former president and publisher of Interview magazine.
Lagerfeld's godson, Hudson Kroenig, is the son of model Brad Kroenig and his wife Nicole. Hudson, who also models, often walks with Lagerfeld at the end of Chanel shows.