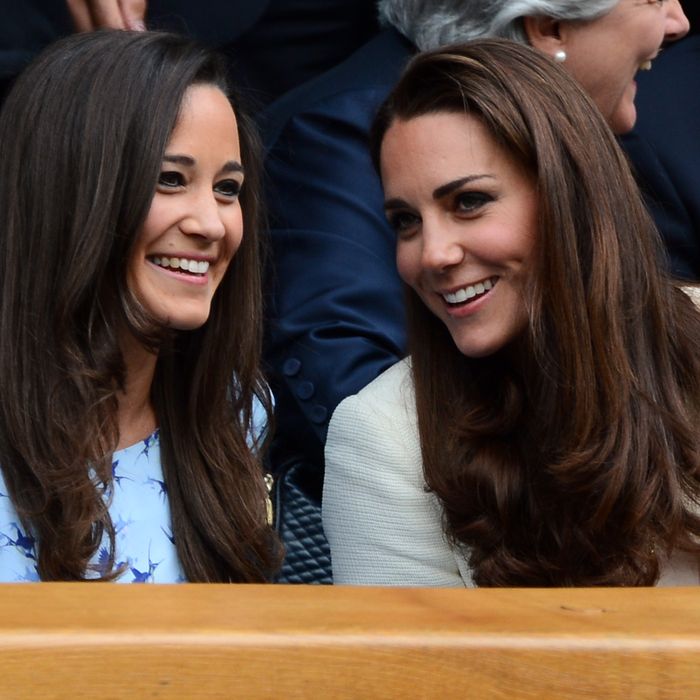 Pippa and Kate Middleton.
Photo: LEON NEAL/AFP/Getty Images
The three-story Chelsea apartment that Kate and Pippa Middleton lived in before Kate married Prince William in 2011 and became the Duchess of Cambridge, is up on the market. According the Sunday Times, the apartment is on the market for £1.95 million, or $2.5 million.
Michael and Carole Middleton bought the apartment in 2002 for £780,000 for their daughters, who shared the three-bedroom, two-bathroom residence. The apartment was reportedly decorated with "neutral-toned" furniture, and faced east to west, meaning that it was flooded with sunlight all day.
While the apartment certainly isn't as luxurious as Kate's 20-room apartment 1A in Kensington Palace, or Pippa's £17 million London townhouse, it is still pretty big. In addition to the three bedrooms, the listing states the apartment also features a large master bath, big windows, a large "reception area" and "upper floor maisonette provides a peaceful, light and spacious home."
The listing is posted as other real estate news circulates about the royal family. Details continue to emerge about Prince Harry and Meghan Markle's move to Frogmore Cottage, and exit from Kensington Palace, which is less a cottage and more a posh home on the 35-acre Windsor Castle Home Park estate.