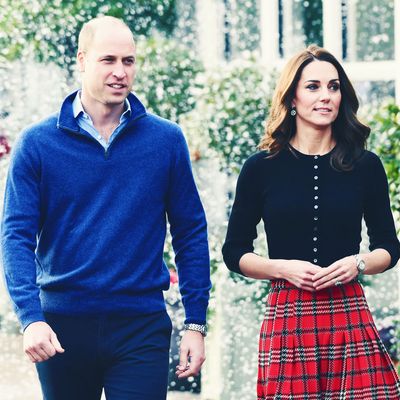 Prince William and Kate Middleton.
Photo: Stuart C. Wilson/Getty Images
There's been a ton of drama surrounding the British royals lately, ranging from reports of "tensions" between Prince William and Prince Harry to an alleged feud between Kate Middleton and Meghan Markle. But on Tuesday, the Cambridges seemed unfazed (and extremely festive) as they hosted a holiday party for military families at Kensington Palace.
As People reports, Kate and Wills were greeted by fake snow as they walked along the palace grounds to get to the holiday party, which was put on in partnership with the Royal British Legion. The charity event included an appearance by Santa Claus, as well as activities for kids, such as a photo booth, and Christmas stocking and snow globe decorating. The prince sported a very blue outfit, while the duchess wore a tartan skirt by Emilia Wickstead, a cropped black cardigan, and black boots.
The event — and the pictures of Prince William and Kate from it — seems like a nice, cheery occasion. Kate even gave a speech (as Prince William looked on, which doesn't happen that often), and on the whole, everything seemed to go quite well.
But their appearance comes on the heels of the aforementioned drama — and just one day after it was revealed that the Cambridges and Sussexes will be spending the Christmas together at Queen Elizabeth's Sandringham estate. (Tabloids had reported that the two couples would be spending Christmas apart due to "tensions," but royal sources said nope, they'll be together after all.) That same day, Kensington Palace also made the rare move of publicly denying one of the reports regarding Meghan and Kate, which suggests the higher-ups are aware of the tabloid reports and starting to take action. So it should come as no surprise that the Cambridges were sure to be happy and festive as the royals attempt to navigate this royal PR disaster.