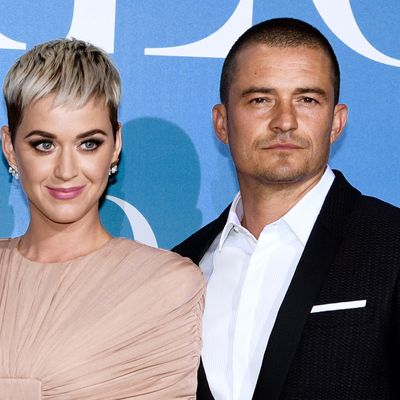 Katy Perry and Orlando Bloom.
Photo: Daniele Venturelli/Daniele Venturelli/ Getty Images
At the One Love Malibu charity show, which supported relief efforts from the Woolsey fire that consumed much of the city, Katy Perry very likely ruined the dreams of one very eager fan. Katy Perry outbid all other offers during a charity auction she moderated, for a motorcycle date with Orlando Bloom, her (sometimes) boyfriend.
"This man that I am dating and totally love and respect, he is literally a Malibu OG," Katy said, according to The Hollywood Reporter. "That also means that when you are on the motorcycle with him you are holding him in a way that I am not excited about. You're holding his pecs and his six-pack and it's so glorious … you get to stare into his brown eyes, it's gorgeous."
Apparently, her sell was so convincing that she bought into it herself. After a fan named Laura bid $20,000, Katy paused. "Laura! Girl you're going to love this," Katy said, hyping up the date and making jokes with the audience. Then she suddenly outbid Laura … by $30,000. "Laura, I'm sorry. I'm buying it for $50,000," she said, before dropping the microphone and walking off the stage.
The crowd erupted with a mixture of boos and cheers at Katy's bold move. Like yes, it is great that more money will be donated to relief efforts, sure. But poor Laura spent a solid 30 seconds thinking she might get to go on a romantic motorcycle date clutching the torso of a Hollywood actor.